Buddy Bench - Fostering Friendships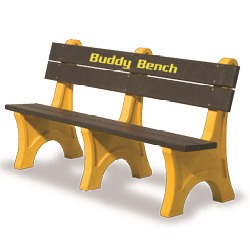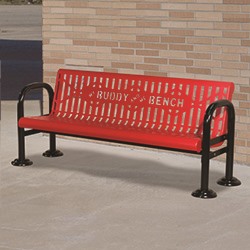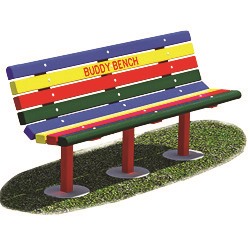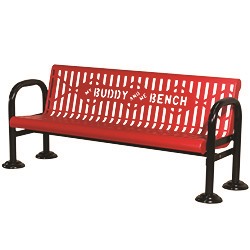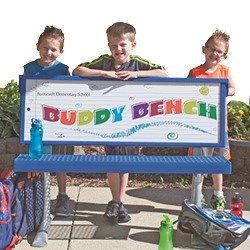 Using the "click here" links below you can shop for your preferred Buddy Bench.
Many Pilot Rock park benches can become your Buddy Bench with custom signage and plaque options available.
Model B400 and B410 Sign Benches (click here) include custom backrest signs that can include colorful graphics and photos. Plus, the sign can be changed whenever you want. Our Sign Benches offer you the most creative venue for your Buddy Bench message.
Model CXB Channel Benches (click here) with the 2x12" Perforated Steel seat/backrest can include the Buddy Bench identity in the backrest.
Any of our benches with Recycled Plastic seat/backrest planks can be engraved with your Buddy Bench message (click here). Resin filled letters will really make your Buddy message pop.
Custom Plaques (click here) are an option on many benches using wood, plastic and steel. These plaques offer color options … even photographs … that will enhance your friendly Buddy Bench message.
Our B70, B80 and B90 series benches with the Laser Cut Steel Plate (click here) seat can be custom cut to incorporate your Buddy Bench message into the steel. Colorful finishes on the bench frames and seat will get your bench noticed.
We can help you design a Buddy Bench to fit your budget, your landscape theme and your friendship program. We offer many colors, materials and signage options to consider. See the related Pilot Rock Bench pages referenced above to configure your Buddy Bench with custom signage and then send us your Request For Quote (RFQ).