Firering Spark Arrestor - Model FRSA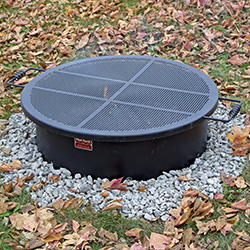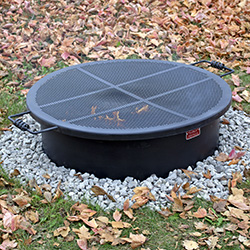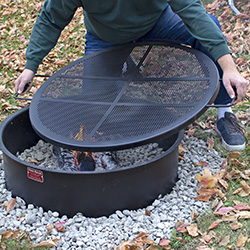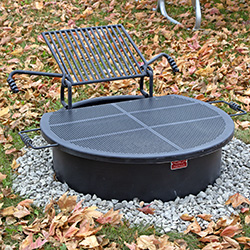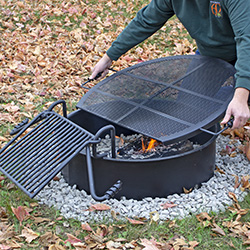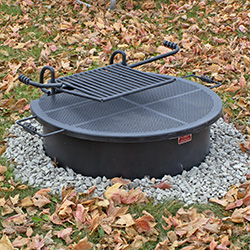 Model FRSA Firering Spark Arrestor is designed to restrict sparks that might rise into the air. It will also reduce the size of the fire built in the firering by keeping the fire wood below the top of the firering. A smaller fire will also help in reducing the number of sparks.
Model FRSA can be laid on top of a wide variety of Pilot Rock campfire rings to reduce the sparks that can rise out of a campfire. See the table below. This spark arrestor screen is punched, laser cut and roll formed using 14 ga. steel; 1/4 in. dia. holes; steel bar reinforcement and handles; 1/8 in. x 1/2- in. coiled flat steel grips. Ships fully assembled, no assembly or installation is required.
Firering Spark Arrestor can be lifted off the campfire ring to tend to the fire, or to replace the cooking grate over the fire for grilling. CAUTION: the unit will be hot.
Models FRSA-1 and FRSAS-1 compatible with: FS-30, FSDW-30, FX-30, FXS-30 firerings.
Models FRSA-2 and FRSAS-2 compatible with: FA-30, FSW-30, FSW/SL-30, FSWS-30, FSWDW-30 firerings.
Finish: High temp non toxic black enamel paint on steel FRSA-1 and FRSA-2 models. Paint will burn off.
Optional: Model CK-1 Chain Kit (40 inches of 1/8-in. galvanized steel chain with (2) S-hooks) can be used to tie Model FRSA to the campfire ring if desired.
Optional: All stainless steel fabrication. These stainless steel designs are NOT painted. Use Model Numbers FRSAS-1 and FRSAS-2.
NOTE: These Firering Spark Arrestor screens may fit on other brands of campfire rings with similar dimensions. Compare the OD of your campfire ring to the ID of the Spark Arrestor. But we make no claim that Model FRSA-1 or FRSA-2 will fit on firerings from other manufacturers.