Case of (4) One-Gallon Bottles QuatSan Disinfectant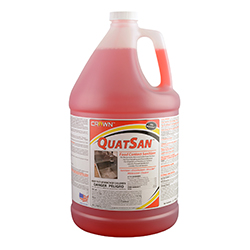 One case box of (4) one-gallon bottles of QuatSan no-rinse disinfecting sanitizer concentrate. Use only 1.5 oz. per gallon of water.
This product is an EPA registered sanitizer, disinfectant, virucide, mildewstate, cleaner and deodorizer for use in restaurants, bars institutional kitchens, food handling and process areas. It can be used on hard, nonporous surfaces
Sold in case lots only.
Refer to Crown Chemical Safety Date Sheet, and Quat-San Technical Data Sheet.