Lid - Round Plastic Dome With A Rounded Face for Recycling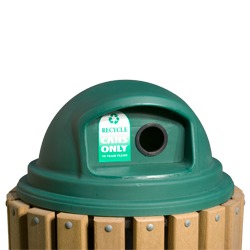 Model CN-PD Round Plastic Dome Recycling Lid is molded with a solid ROUNDED "door" panel. It is available with a 24" or 27" diameter and either a 3" or 4-3/8" hole for depositing cans and bottles. Choose from 8 colors. A decal is included.
Note: For all lids, please confirm the inside diameter (I.D.) will fit the outside diameter of your receptacle. Some lids may fit more closely than others.

Model Number

Hole
Dia.

I.D.

O.D.

Use with these Receptacle Holders

CN-PD-27PC1

3"

27-1/4"

27-3/4"

TRH-32, TRH-55 (fits on top ring),
CN-R/R-52, CN-R/D-52, CN-R/R-55,
CN-R/D-55

CN-PD-27PC5

4-3/8"

CN-PD-24PC1

3"

24"

24-1/2"

TRH-32, TRH-55 (fits on barrel inside),
CN-AMR-32, CN-R/R-32, CN-R/D-32,
CN-R/SS2-36,

CN-R/SS2-36D,

CN-EXP52, CN-R/SP2-32, CN-TR-52, CN-R/SS3-36, RA's

CN-PD-24PC5

4-3/8"

DECALS:
Model DE-22 "Cans Only" (We recommend 3" dia. hole)

Model DE-23 "Plastic Bottles Only" (We recommend 4-3/8" dia. hole)

Model DE-24 "Cans & Bottles Only" (We recommend 4-3/8" dia. hole)