Vertical Wave Ash Receptacle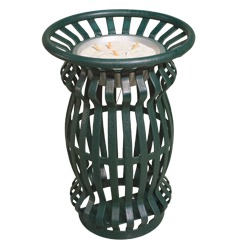 Model CN-R/SS3-36 Ash Receptacles are fabricated using vertical steel straps in an attractive wave pattern. Dimensions: 29 in. tall x 20 in. OD.
Coordinate with Vertical Wave Trash and Recycling Receptacles and Planters.
Specifications:
Fabricated using 1/8 in. thick x 1 in. wide steel vertical ribs with a die formed wave pattern. The top is finished and reinforced with a steel tube ring of 1 in. OD x 14 ga. wall steel tube. The base structure includes a 10 ga. steel ring and cross braces with holes to provide anchor points for surface mounting (Anchor bolts not included). All components are welded into a single unit. No assembly required.
Large capacity aluminum sand bowl is cabled to the receptacle - it can be removed for cleaning but cannot be stolen. The deep sand bowl helps protect the sand from the wind. Includes and 8 lb. bag of sand.
FINISH: Thermo-plastic coat in your choice of colors. See Material Options.
OPTIONAL: Stationary mounts are available. See Stationary Mounts.

OPTIONAL: Model ANC3-4 Anchor Kit (four 3/8 in. x 3 in. concrete screw anchors) is available for hard surface mounting.