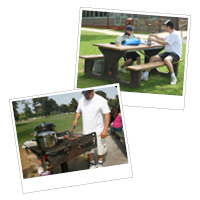 Send Us Your Photos!
Pilot Rock products can be found in ALL 50 STATES, as well as overseas. You can find Pilot Rock products in use by cities, parks, campgrounds, military installations, schools and back yards throughout the US.
Have you seen Pilot Rock products when traveling? Maybe you have a picture showing a Pilot Rock product in use? We'd love to see what you have. Send It Our Way!
---
We are always happy to hear from you! For product info, price quotes, or general questions, please contact customer service.

Customer Service
Phone: 1-800-762-5002, or 712-225-5115
Email: Customer Service Department

Hours
Monday - Friday
8am - 5pm CT

Mailing Address
R.J. Thomas Mfg. Co. Inc.
PO Box 946
Cherokee, IA 51012-0946

Location



Purchase Orders can be emailed to Order Entry.
Federal Buyers: Please visit GSA Contracts for information about our GSA contract pricing. NOTE: Our GSA Contracts have expired and have not yet been renegotiated. All prices will be "open market."

Our company name is RJ Thomas Mfg. Co. Inc.
The brand name for our park, street, and campsite products is Pilot Rock.
Please make PO's and checks out to: RJ Thomas Mfg. Co. Inc.