R.J. Thomas Mfg. Co. Inc. is the 3rd generation family-owned manufacturer of Pilot Rock brand park, street and camp site equipment.
In our ongoing effort to improve and expand our own product line through continuous production process upgrades and added efficiencies, R.J. Thomas Mfg. Co. Inc. has the production capacity to accept additional custom fabrication and welding jobs upon request. We have the ability to take on your job or idea and turn it into a finished product no matter what step of the process you are in whether it be design, cutting, fabricating, welding, or finishing. Please contact us if you have a need in any of the areas listed below.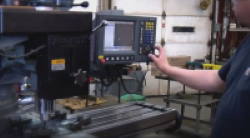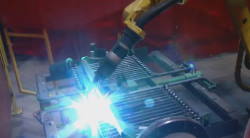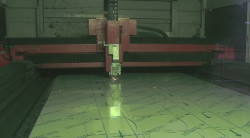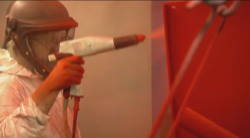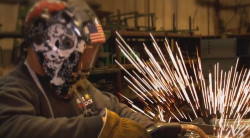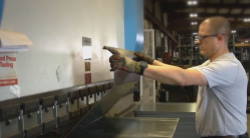 Product Design
Our engineering and design departments use the latest versions of AutoCad and Inventor drafting software.
We are regularly taking classes to keep up to date and take advantage of new design software advancements.
Materials
Through decades of manufacturing our OEM products we have been able to leverage our material volume to negotiate excellent pricing from our suppliers on a large variety of materials. We
are able to use this pricing to offer reduced costs to our customers.
Fiber Laser Cutting
Our 4KW Bystronic laser has the capability to process 5'x10' sheets with tolerances within .01" in thicknesses up to 1/2" mild steel or .015 on thicknesses between 1/2" & 3/4".
Our 3KW Trumpf Laser/Punch Combo machine has similar capabilities to our Bystronic laser, but adds the abilities of a punching machine as well.
Both machines are fully automated to easily process large runs with huge cost savings to our customers.
Our 10KW Bystronic Fiber Laser and automation is set for delivery this Spring adding the capabilities to cut thicker materials at higher speeds.
Deburring
Just added, our newest deburring machine has the capability to debur and edge round both the top and bottom of your part at the same time. This is a huge advantage for anything with a finish coating! Paints and powders do not like sharp edges, and even your unburred edges still have a straight 90 degree edge. Edge rounding is essential for any finished product on top and bottom.
Our Fladder deburring machine adds the ability to deoxidize thicker material.
CNC Sheet Metal Forming
We have both automated and manual CNC Press brakes that can handle both large and small parts.
Our Bystronic Press Brake includes a Laser Angle Measurement System (LAMS) that measures the bend thousands of times per second to adjust for different tensile strengths across the sheet.
CNC Rod Forming
Our CNC rod former will take rod straight from the coil, then straighten, form, and cut all in one step. Large runs of even complex formed rods can be done with minimal labor costs.
Available in ¼", 3/8", ½", and 5/8" thicknesses.
Manual & Robotic Welding
We have several Pulse Mig Welders and an excellent welding staff to operate them.
We have over a dozen robotic welders for large run welding jobs.
Powder Coating
Our powder coat system includes a 3-stage wash and is easily customizable to fit your needs.
You can choose from any of our OEM colors with custom colors available on larger runs.
Thermoplastic Coating
We run a unique dip style thermoplastic coating process that allows us to achieve 30-40 mil thicknesses vs the standard 3-4. This makes for an unbelievably durable finish. Thicker or thinner coatings available upon request.
We are regularly upgrading and expanding both our production space and our production capacity. New machines and capabilities are currently on the way with more being added every year. If you have a need that is not listed, don't hesitate to ask! Our design, fabrication and finishing capabilities can reduce your costs and shorten your lead times.
Contact us today for a free estimate on your custom metal fabrication project:
Contact: Custom Fabrication Manager
R.J. Thomas Mfg. Co. Inc.
PO Box 946
5648 US Hwy 59
Cherokee, IA 51012
Ph: 712-225-5115
Visit our custom fabrication website: www.rjthomasfabrication.com/
E-mail: Custom Fabrication Manager