Preparing Your Grill Grate for Cooking
Customers often come to us with questions about the best way to prepare their new charcoal grill or campfire ring cooking grate for cooking. And, because grills and campfire rings are constantly exposed to the elements, customers have questions about how to maintain their grills and rings in optimum condition.
Below are some guidelines to care for your Pilot Rock charcoal grills and firerings.
Grill Firebox and Firering Care:
1. Regulary clean out all charcoal and wood ash from the grill
firebox bottom and from inside the firering.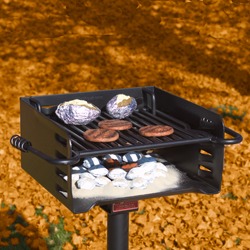 Rainwater combining
with ash will accelerate the rusting process.
2. The non-toxic, high heat paint on the grill and firering will last one to two years depending on frequency of use. When there are signs of rusting on the firebox or ring, use a wire brush to clean the areas and then spray or brush apply another coat of high heat, non toxic enamel paint. Do this ONLY when there is no fire in your grill or firering and ONLY when the units have cooled down to air temperature.
Cooking Grate Preparation:
1. The cooking grate should be seasoned before grilling directly on the steel grate. You can season the grate by gradually burning the high heat non toxic paint off the grate bars as you use the grill. As you heat the grate you can use a wire brush to both clean the grate and remove any paint chips.
2. Until the grate is seasoned, you can use aluminum foil to cover the grate bars, or use a pan or pot to cook your food.
3. Once the grate is seasoned we suggest using a wire brush to remove rust and left over food particles before each use. Heat the grate before use by keeping it close to the coals. Then raise the grate and scrape it clean.
4. The best seasoned grate is when the orginal finish is burned
off and there is a good coating of grease on the steel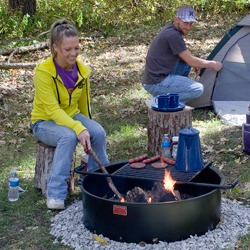 grate
bars. It is usually not necessary to re-coat the grate since the
grease from cooking will keep rust at bay. However, you can
apply a cooking oil if you choose before each use. CAUTION:
Be sure to apply this cooking oil prior to starting your fire!
By following these simple suggestions, you can enhance your grilling experience and increase the lifespan of your favorite Pilot Rock charcoal grill and campfire ring.
We hope our grills and firerings help you Enjoy the Outdoors!