Plaques for Park Benches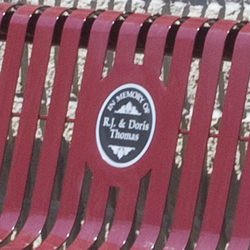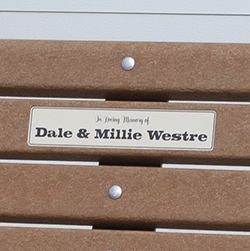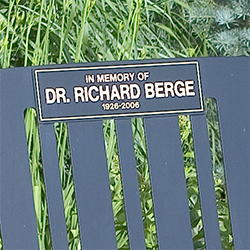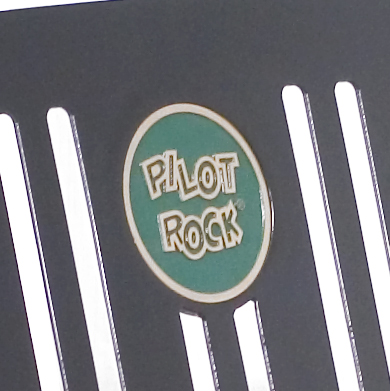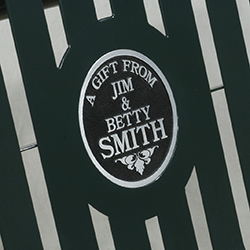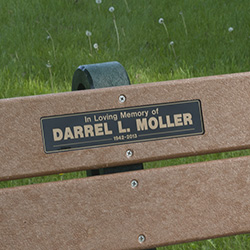 With custom signage on your bench you can recognize memorials, donations, service, special occasions, ownership, achievement, schools and teams, promote a service organization, and prevent theft. We have three different types of plaques available.
Acrylic Laminated Plaques:
Features include:
Material: Made from 3-ply laminated impact acrylic (1/8" thick). Rated for exterior usage, UV stable and outdoor weatherable. Matte, non glare finish.
Installation: Plaques can be recessed into wood or recycled plastic planks (recommended). Or plaques can be surface mounted on steel, aluminum, wood and plastic.
Size: Laminated plaques are approximately 2-1/2" tall x 11-3/4" wide.
Colors: Contrasting surface and core colors. Some popular color combinations include (surface/core): red/white, red/yellow, yellow/black, green/white, teal green/white, blue/white, blue/yellow, black/gold. Other color combinations are available upon request.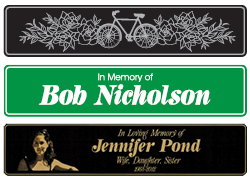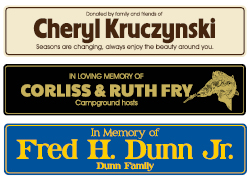 Cast Metal Plaque – Round or Rectangular
Features include:
Material: Durable, lightweight cast metal is resistant to the elements and wear.
Installation: Round – available on Bench Models B78, B79, B82, B94, B102, B122 and B123 using steel strap or cut steel plate contour seats. Rectangular – available on most benches using wood or recycled plastic backrest components.
Size: Round = 6 inches outside diameter. Rectangular = 2-1/2" tall x 11-3/4" wide.
Colors: Silver or bronze colored border with raised letters. Background is lightly textured and available in black, brown, maroon or green.
Select the plaque you want and add it to the Quote Cart along with your bench. Then in the comments section of the Quote form include the information you would like on your plaque. We will create a proof of your plaque and e-mail this proof to you for corrections and final approval.