Model BPFL-25 Bear Resistant Food Locker, 25 cu. ft.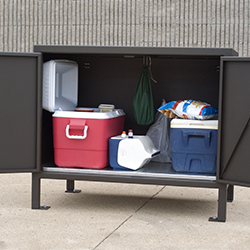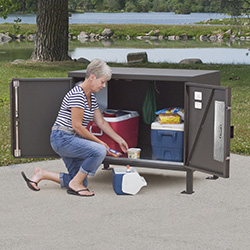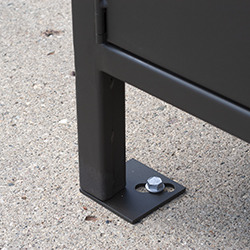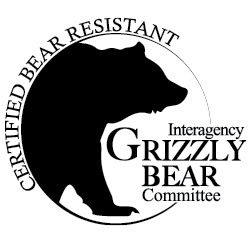 Price Per Unit Starts At:
Certified Bear Resistant Food Storage Locker – 25 cubic feet capacity.
This Food Storage Locker is certified by the Interagency Grizzly Bear Committee testing protocol to resist bears' efforts to get into camper's food stores. See certification numbers is the chart below.
SPECIFICATIONS:
These Model BPFL Food Storage Lockers have been designed … and tested … to keep bears out. The un-bear-able features include:
Construction: The top, sides and door panels are all fabricated using heavy 12 ga. steel plate. The bottom panel is 12 ga. pre galvanized steel to prevent rusting. The corner braces/leg posts are 12 ga. steel formed channels nested inside the formed channel side panel wraps. This design assembly creates strength and rigidity for the box. The Lockers include all welded assembly. Only the galvanized bottom panel is bolted in.
Door Features: The full-swing doors ride on heavy gauge, stainless steel full-length continuous hinges. The latch door is reinforced with a steel angle. The door on Model BPFL-25 has two latch points on each door for extra strength and security. That's a total of four latch points. The doors can be opened with one hand and comply with ADA guidelines for reach and operability. The doors are easy to swing closed. For safety, the door latch can be disengaged from inside.
More Features:
Includes four leveling feet so you can adjust for an uneven surface.
Includes a set of (4) ½" x 5" concrete screw anchors (#ANC5-4).
Locker Ceiling is reinforced with formed steel channel that includes hooks for hanging packages of dry goods.
Wide doors provide easy access for large coolers.
A locking hasp is welded to the locker frame and extends through the door so the door can be padlocked closed for security if needed (padlock is not included).
Room inside the locker to open cooler lids without lifting them out. No need to lift heavy coolers out of the locker.
Air louvers in back panel provide ventilation but restrict insect access.
Two like size units can be stacked to provide double the storage capacity on less space.
Finish: Textured powder coat finish available in 5 colors: brown (CWT), green (CNT), black (CBT), speckled tan (CTT) and blue (CUT). See Material Options. The pre galvanized steel bottom panel is not painted.
Model Number and Sizes:


You May Also Like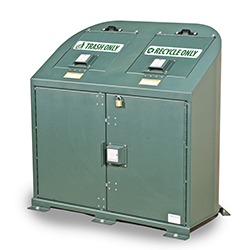 Model BPRT2 - Bear Resistant Trash and Recycling Receptacle - 2 Modules
SKW: BPRT2
When a bear gets into your trash, you've got a BIG mess and a BIG problem. Certified by the IGBC.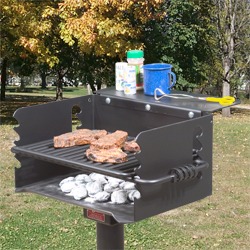 Q-20 Series Charcoal Grill
SKW: Q-20
This grill features a 300 sq. inch grate that tips up & allows for easy fire building and clean out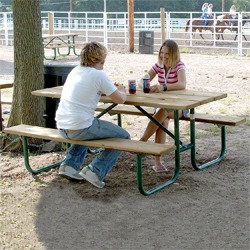 UT Series Picnic Table - Using Lumber
SKW: UT
Durable picnic table using Lumber, available in 4 lengths