Optional Embedded Post Mount for BPFL Food Lockers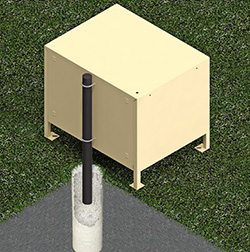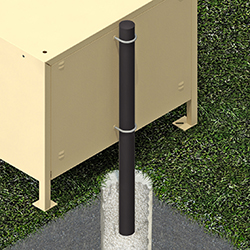 BPFL/CB-POST1 Embedded Post Mount.
An Optional Installation for BPFL-15, -25 and -30 Food Lockers
If you don't have a concrete pad to anchor your Food Lockers to, this embedded post installation offers you an alternative.
SPECIFICATIONS:
3-1/2 in. OD x 61-/14 in. long post is embedded into a concrete footing (recommended 12 in. dia. x 36 in. deep).

The center back of the Food Locker is attached to this post.

All hardware is included.

The ground surface should be as level as possible.

Black enamel paint finish on post.
This option is available only for the BPFL-15, BPFL-25, BPFL-30 and BPFL-D-30 Bear Resistant Food Lockers.
This option is NOT available for the BPFL-T-18 Trailside Locker.
NOTE: This installation method has NOT been tested/certified by the IGBC.