BR-6DS Bike Rack BUY NOW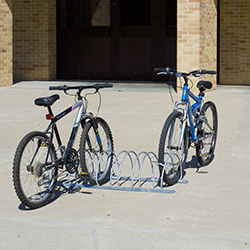 Series BR Safety Bicycle Rack is designed with gently curved arches. The base angles face down to eliminate any vertical edges.

This bike rack will accommodate bikes in a wide variety of sizes. BR Models are available in single-side (to fit adjacent to walls - BR-6SS) and double side styles (to hold bikes on both sides - BR-6DS). Both bike rack styles can be ganged together on the ends to supply the needed amount of parking. Bikes are parked on 16" centers per side.
Model BR-6DS is 48 in. long, parks 6 bicycles using both sides.
Specifications:
MATERIALS: Pre-assembled hoops of 1/2" diameter steel bar with 1/8" x 1-1/4" x 1-1/4" formed steel base angles. Zinc plated fasteners included. All assembly fasteners are pointed towards the ground with nuts concealed from view inside base angle to deter theft.
Shipped unassembled, in two packages.
FINISH: Hot dip galvanized finish for maximum protection from weather and bikes.