Hoop Bike Rack - BR20 Series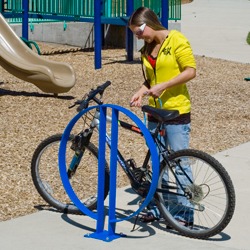 Price Per Unit Starts At:
Model BR20 Hoop Bike Rack provides secure parking for two bikes of any size and style. All popular locking devices may be used.
The Hoop Rack can be installed singly or in groups, and lends itself to many creative installation patterns.
Specifications:
MATERIALS: Fabricated using 1/4" thick x 2-1/2" steel plate, with a 1/4" x 8" square steel base plate.
DIMENSIONS: 29" diameter x 34" tall.
INSTALLATION: Surface mount installation only (anchor bolts not included).
FINISH: Thermo-plastic coating in your choice of colors. See Material Options.
OPTIONAL: Model ANC1-4 set of (4) ½" dia. x 3" heavy duty screw anchors for concrete surface.