Omega Bike Rack - ORP Series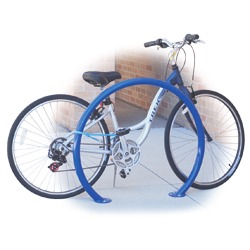 The Omega Bike Rack provides secure parking with classical styling. The Omega can be installed singly or in groups. It lends itself to many creative landscape patterns.
Each Omega Rack will hold up to 2 bikes of any size and style. All popular types of locking devices may be used.
Specifications:
MATERIALS: Fabricated using 1.90" steel pipe.
DIMENSIONS: 32" tall at center, 36-3/4" wide at center.
FINISH: Available with hot dip galvanized finish for maximum protection. Or choose a powder coat finish in your choice of colors. See Material Options.
INSTALLATION: Surface mount installation. Requires six 3/8" dia. anchor bolts (not included).
OPTIONAL: Model ANC3-6 Anchor Kit - set of (6) 3/8" dia. x 3" heavy duty screw anchors for concrete surface.