Saddleback Bike Rack - Embedded Mount - SRE Series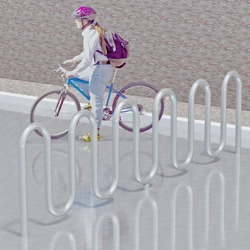 Price Per Unit Starts At:
Model SRE Saddleback Bike Rack incorporates a graceful, continuous loop design. It will accommodate all types of bikes and all popular locking devices.
Model SRE Saddleback Bike Racks support legs will be EMBEDDED in concrete footings.
This bike rack can mount a bicycle at each end, plus a bike in each ascending or descending loop. Models are available to park from 3 to 13 bikes.
Specifications:
MATERIALS: The Saddleback Bike Rack is formed using heavy gauge 2-3/8" OD Schl. 40 steel pipe.
LENGTH:
3 Bikes - 14" (nom.)
5 Bikes - 38" (nom.)
7 Bikes - 62" (nom.)
9 Bikes - 86" (nom.)
11 Bikes - 110" (nom.)
13 Bikes - 134" (nom.) - will have 3 legs for support
Note: Saddleback Bicycle Racks feature a nominal 12" center to center between loops. Listed lengths are nominal and may vary due to bending tolerances.
INSTALLATION: Model SRE has a longer leg for embedment into concrete footings. Optional 2-section aluminum cover caps are available (finish will match the bike rack).
FINISH: Hot dip galvanized finish for maximum protection. Or choose powder coat paint finish in your choice of colors. See Material Options.