Foldable Cooking Grate for Backyard Firepits - DIG-R35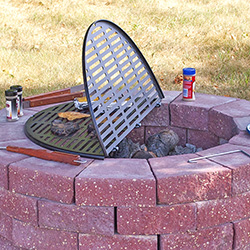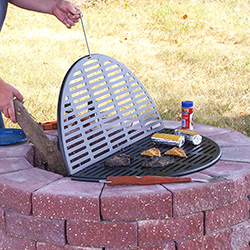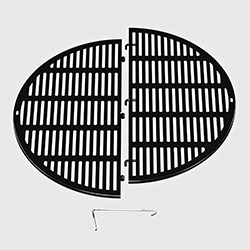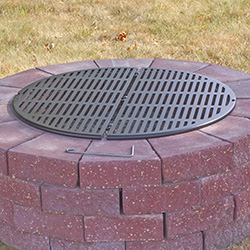 Price Per Unit Starts At:
Model DIG-R35 is a hinged, foldable Cooking Grate designed for use on backyard firepits.
The two sections of this cooking grate mate together with welded-on hinge pins. It folds in half for easy transport or storage. It does not require any fasteners.
Unfold the cooking grate to its full diameter of 34.5 inches and place on top of your firepit. One side of the grate can be lifted up and over center. It will not fold all the way over so your food on the other half is not disturbed. The raised-over-center grate will stay in place so you have both hands free to tend to the fire on the open side. A lifting tool is included. USE CAUTION - THE GRATE WILL BE HOT. The DIG-R35 can be removed from your firepit when you are done grilling and you want to enjoy the fire only.
Fabrication: All 10 ga. (.1345 inches thick) steel plate, precision laser cut. Finished with high temp, non-toxic black enamel paint. Season the grate before first use.
Easy assembly. The two halves slip together at hinge points. No tools required.
Made in the USA.
Ships in one box.
Shipping weight: 25 lbs.
Product weight: 23 lbs.
Product dimensions (folded): 34.5 inches wide x 18 inches long x 1 inch thick.
Product dimensions (unfolded): 34.5 inches wide x 35.25 inches long x ..625 inches thick.
NOTE: Model DIG-R35 hinged, foldable Cooking Grate can be used on brick and block firepits with or without a steel insert.

California's Proposition 65.