FSW-48 Campfire Ring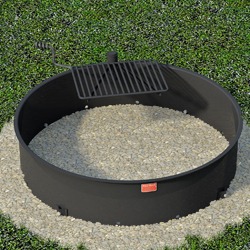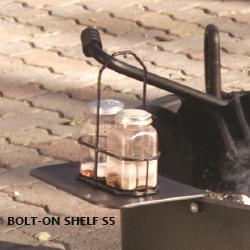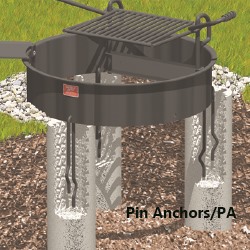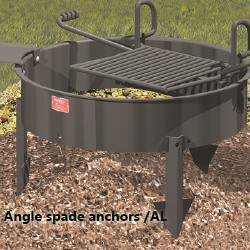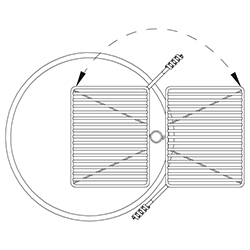 Price Per Unit Starts At:
The FSW Series Campfire Rings combine a single level swivel cooking grate with our flanged fire ring. The 300 sq. inch single level Swivel Grate will move 180 degrees – from over the fire to completely out of the fire ring – for easy fire building and serving. The handle is never over the fire.

Fire ring is rolled from a 3/16" thick steel plate with an integral formed 1" wide flange around top edge. This flange provides extra strength against heat warpage and eliminates a vertical edge. Draft holes are provided for fire ventilation.

Model FSW-48 Series Campfire Ring features a 46" inside diameter and is available in three different side heights of 7-3/8", 9", and 11-3/8".

FSW Series fire rings include pin anchors (/PA) to keep the campfire ring secured in one place, but do not allow for tip back. These pins must be set in concrete.

The cooking grate is a single, welded component using ½-inch dia. steel bars, mounted on a 2-3/8" OD steel tube allowing it to swivel 180 degrees. The operator handle includes a 1/8" x ½" flat bar coiled spring grip. All grate bars are welded on both sides. All fire rings are finished with high temp non-toxic black enamel paint.
OPTIONAL Anchor Systems:
Angle Spade Anchors (/AL) are 4 spades attached around the firering and buried in the ground. The firering cannot be tipped up.

OPTIONAL: Model S-5 Bolt-on Utility Shelf

California's Proposition 65.
You May Also Like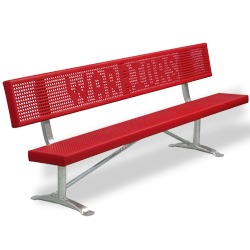 Channel Park Bench - Using 2x12 Perforated Steel
SKW: CXB::
The Channel Bench - Using 2x12 Perforated Steel planks coated in colorful thermoplastic.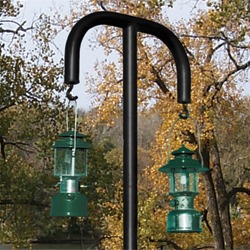 Model LH-2 - Lantern Holder With 2 Arms
SKW: LH
Safely hang camping lanterns. Available with Wheelchair Accessible Option.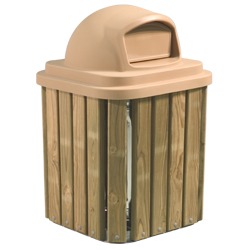 Square Trash and Recycling Receptacles - TRQ Series
SKW: TRQ
Square shape for a different look. CLICK TO SEE MORE.