FSWDW/SL-30 SNOW LOAD Rated Accessible Campfire Ring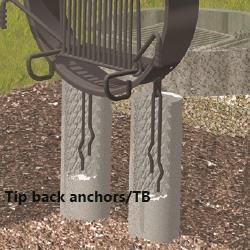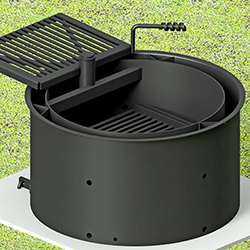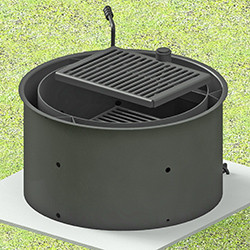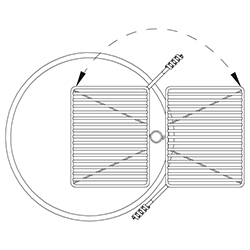 Price Per Unit Starts At:
Model FSWDW/SL-30/18/TB accessible campfire ring offers a full-height outer ring as a heat barrier for the inner ring. One inch diameter draft holes feed air into the space between the rings. This unit does not require aggregate fill because it is equipped with a fire/log grate inside the fire ring. This accessible ring is designed to accommodate a person in a wheelchair, but all campers will find this taller fire ring a versatile complement to their campsite. Tip back anchor pins secure the unit in place. Anchors must be set in concrete.
Our new Swivel Grate firering design is tested to withstand snow loads of over 569 lbs. per sq. ft. on the grate. The swivel grate is laser cut from 1/4-inch thick steel plate. A special 10 ga. channel brace is welded inside the ring to reinforce the swivel tube.

Fabrication includes a 1/8" thick steel outer ring with the formed reinforcing flange, and a 3/16" thick steel inner ring. Both rings are 17-3/8" tall. The 300 sq. inch single level swivel cooking grate will move 180 degrees - from over the fire to completely out of the fire ring – for easy fire building and serving. The handle is never over the fire. This Swivel Grate meets the ADA guidelines for reach and operability.
Inside is the large 380 sq. inch log grate. This log grate is hinged to the inner ring and tips up to simplify ash clean out. The cooking and fire grates are fabricated using 5/8" dia. perimeter and handle bars with coiled steel bar grips, and 1/2" dia. grate bars. All grate bars are welded on both sides. This campfire ring is finished with high temp non-toxic black enamel paint.

OPTIONAL: Bolt-on utility shelf Model S5

California's Proposition 65.
You May Also Like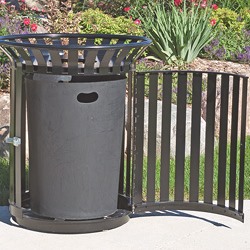 Round Receptacle - Side Door, Steel Strap
SKW: CN-R/SS2
The side door provides easy access to the liner inside.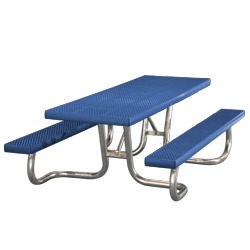 Snow Load/ Extreme Load Rated Accessible Picnic Table - WXT Series
SKW: WXT::
Rated for snow/extreme loads to 1420 lbs per sq. ft. ADA Compliant wheelchair access at both ends.