Model I-RS Removable Cooking Grate for FXS-30 Stainless Steel Firerings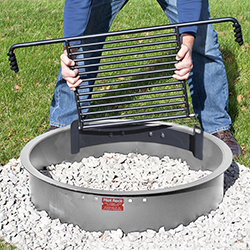 Model I-RS Removable Cooking Grate for FXS Stainless Steel Firerings (Optional)
Model I-RS single level removable cooking grate can be used with the FXS Series stainless steel campfire rings.
This single-level tip-over cooking grate provides 290 sq. inches of surface area. It can lay flat over the fire or be tipped over and out of the firering. The hinge/pivot bracket is bolted to the inside of the firering. When you don't need the cooking grate it can be easily removed from the hinge/pivot bracket.
The cooking grate is a single welded component using a 5/8" dia. steel perimeter, ½-inch dia. steel grate bars and a 3/4" dia. handle bar. The handle bar also supports the cooking grate on the firering top flange. All grate bars are welded on both sides. The operator handle includes two 1/8"x 1/2" flat bar coiled grips.
All grate kit components are finished with high temperature non-toxic black enamel paint.
Some assembly is required to attach the cooking grate hinge/pivot brackets to the firering inside wall. Fasteners are included.