O-34 Large Group Campfire Ring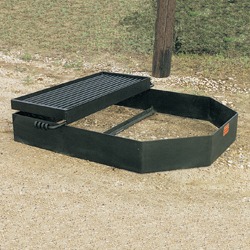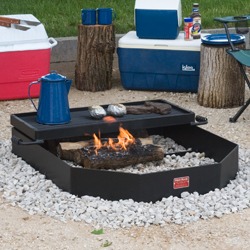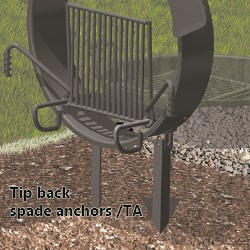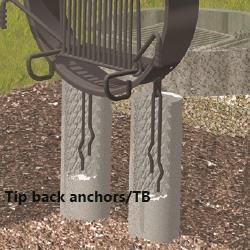 Price Per Unit Starts At:
Model O-34 campfire ring is a larger ring that offers a choice: build a large campfire in the front section, or build a smaller cooking fire under the grate. Built for large groups, this campfire ring includes a 510 sq. inch single level cooking grate, hinged to tip over the fire or out of the ring. Cooking height is 9". The ring is built from 1/4" thick steel plate reinforced with a 3/16" x 1-1/4" angle iron. The cooking grate assembly includes: 1/4" thick flat steel bar perimeter frame; 1/2" dia. grate bars; 5/8" dia. handle bar with coiled steel bar grips. Tip back anchor pins (TB) secure the unit in place and allow the ring to be tipped up. Anchors must be set in concrete. Finished with high temp non toxic black enamel paint.
OPTIONAL Anchor Systems:
Tip Back Spade Anchors (/TA) are 2 spades at the rear hinge point and buried in the ground. The firering can be tipped up.

California's Proposition 65.
You May Also Like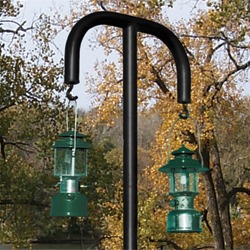 Model LH-2 - Lantern Holder With 2 Arms
SKW: LH
Safely hang camping lanterns. Available with Wheelchair Accessible Option.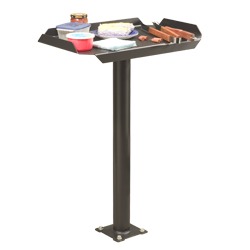 Model ULT-4 Utility Table
SKW: ULT-4::
18" x 30" table swivels on a single embedded or surface mount pedestal.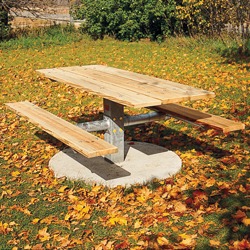 Single Pedestal Picnic Table - PT Series
SKW: PT::
Permanent and secure with simpler maintenance around the table. 6 ft long in a variety of materials.