CBP-247 Series Charcoal Grill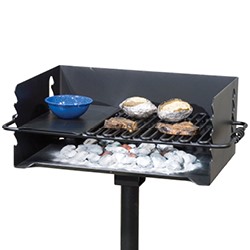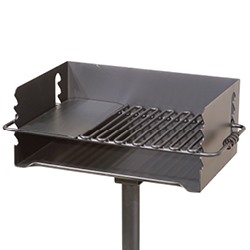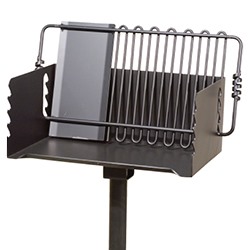 Model CBP-247 is a larger charcoal grill but offers both economy and many valuable features:
Park quality construction: 1/8-inch thick steel plate firebox plus 1/2-inch and 3/8-inch diameter solid steel bars for the cooking grate. The grate bars are welded on both sides. The firebox and grate are fully assembled.
Larger Cooking area: The firebox measures 24 x 16-inches to provide 384 sq. inches of total cooking area. This includes an 8 x 16-inch hot plate section. The 10-inch high sides provide wind and draft control.
Adjustable cooking grate: The cooking grate is easily adjusted to 4 levels above the coals and is held securely in location by the deep slot design.
Cooking grate tips up: Tip the cooking grate up for easy fire building and ash clean out. The cooking grate remains permanently attached to the firebox.
Full 360-degree rotation: This grill design provides a full 360-degree rotation in either direction so you can easily compensate for changes in the wind.
Theft proof swivel attachment: Installation includes a locking pin in the grill-to-post swivel box so the firebox cannot be removed from the post. (We recommend installation of the locking pin, but if this grill will be for your personal use, and theft isn't a concern, the grill is fully functional without the locking pin.) Note: do not install this locking pin if you might use this grill with the optional Model CBP-TGP1 Tailgate Post (sold separately).
Easy post assembly and installation: The base post comes in two sections with assembled dimensions of 2-3/8-inch OD x 40 inches long. Installation requires embedding the post into a concrete footing (concrete is not included). This is an easy weekend D.I.Y. project. Instructions are included. The complete unit ships in one box.
Finish: This grill is finished with a high-temperature, non-toxic black enamel paint.

California's Proposition 65.