CBP-TGP1 Charcoal Grill Tailgating Post - BUY NOW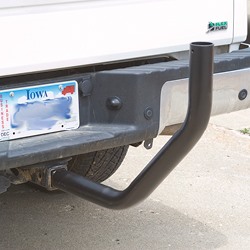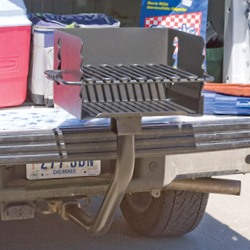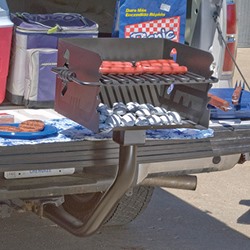 Model CBP-TGP1 Tailgate Post is designed to easily slide into your 2-inch square receiver hitch to make tailgating easy.
With the CBP-TGP1 Tailgate Post, you can use your Backyard Charcoal Grills Model CBP-135 or Model CBP-247 (sold separately) at a comfortable height, directly on the back end of your vehicle.
Both grills on the Tailgate Post will rotate 360° so grilling can be done from any angle.
The CBP-TGP1 post is designed to fit into standard 2-1/2-inch square truck hitch receivers (2-inch ID). A 21/32-inch diameter hole is provided for the hitch pin (hitch pin is not included). Remove and securely store Tailgate Post and Grill before travel.
The Post rises 20-3/4-inches from the hitch to the grill mount to keep the cooking surface at a comfortable height. (Measure the height of your vehicle's hitch. Some high profile and 4x4 vehicles have hitch points higher than other vehicles.)
Model CBP-TGP1 Tailgate Post is constructed of rugged 2-3/8" OD round steel pipe with a die-formed square end. It is finished with high-temp, non-toxic, black enamel paint.
Sold separately from the CBP-135 and CBP-247 charcoal grills. Ships in one box.