EC-26/S Series Covered Grill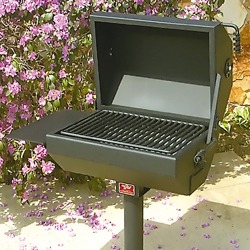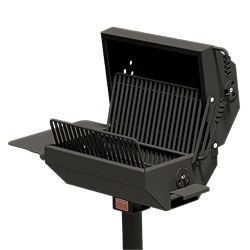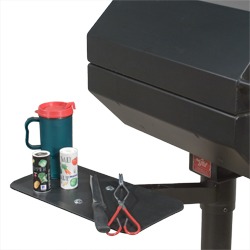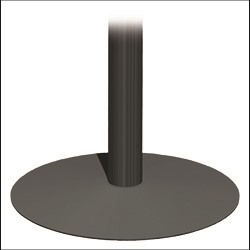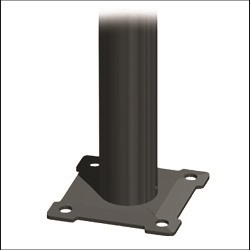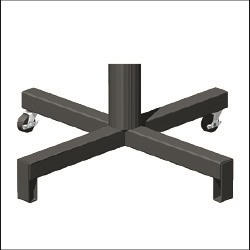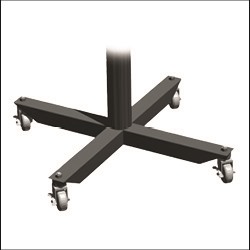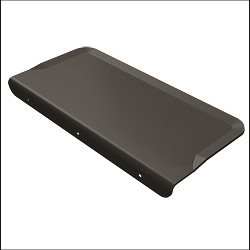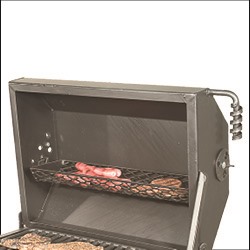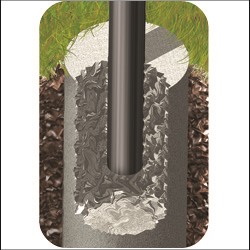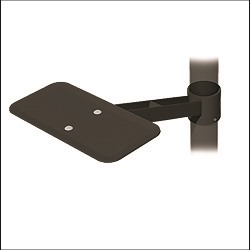 Price Per Unit Starts At:
EC Series Covered Grills can hold in the smoke and heat. The covers also keep rain and snow out of the firebox to prolong the life of the grill.
Model EC-26/S provides 320 sq. inches of cooking area.
The single level cooking grate is hinged to tip up for easy access to the fire grate. The fire grate keeps coals off the bottom of the firebox. This provides better draft control and prolongs grill life. The fire grate also tips up for easy ash clean out through a side door.
Four adjustable draft vents control fire and cooking rate. A full contact rear edge between bottom and cover provides draft control when lid is open. Continuous 360-degree rotation in either direction is provided on our theft-proof swivel attachment to the 3-1/2" OD x 40" long base post (B2) for embedded installation.
Both the grill firebox and cover have a 1" formed flange to provide flat, stable contact perimeter and to substantially reinforce the firebox halves. Slotted steel hinges allow the grill cover to adjust to an obstruction, eliminating potential pinch points. Once fully open the cover is locked in place and cannot be closed without deliberate user action. Grill cover and grate handle grips are 1/8" x 1/2" coiled steel bar.
EC Series charcoal grills feature all-welded construction. Heavy gauge steel is used for cover (14 ga.), bottom (10 ga.) and end panels (11 ga.). Cooking and fire grates are created using 1/2" dia. steel bar, with 5/8" dia. handle bars. All grate bars are welded on both sides. The entire unit is finished with high temp non-toxic black enamel paint.
Each grill includes one Model S2 bolt-on utility shelf.
OPTIONAL: Model S6 Swivel Shelf available on the EC-26 Grill only.

OPTIONAL: Warming Basket hangs inside the cover on either the EC-26 or EC-40 Grills (available only for EC grills ordered after 4/1/07).

OPTIONAL BASES: To replace the standard embedded base post.
Portable disc base (B4).
Bolt-down/surface mount base (B3). Anchor bolts are not included - use Model ANC1-4 Concrete Anchor Kit.
Caster base, 2-wheels (B12).
Caster base, 4-wheels (B14).

California's Proposition 65.
You May Also Like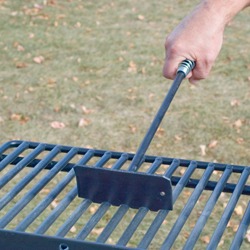 Grill & Grate Scraper - GGS/B-1
SKW: GGS/B-1
Grate scraper for cleaing off your grill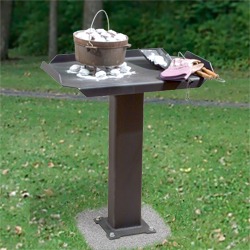 Model ULT-1 Utility Table
SKW: ULT-1::
18" x 30" table on a single embedded or surface mount pedestal.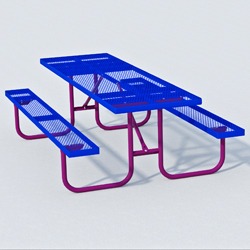 UT Series Picnic Table - Using Expanded Steel
SKW: UT
Durable picnic table using D-Type Expanded Steel coated in colorful thermo-plastic.