EC Grill Warming Basket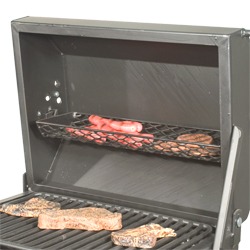 Price Per Unit Starts At:
The Warming Basket option for EC Covered Grills gives you a place to keep some foods warm while grilling other foods on the cooking grate. The expanded steel Basket is supsended from hinges inside the top cover and will rotate to remain level as the cover is opened/closed. The Warming Basketi option is available on all EC Grills manufactured after 4/1/2007.
Model ECB-26: Fits Model EC-26 grills (7"x 21" x 2")
Model ECB-40: Fits Model EC-40 grills (7"x 33" x 2")

California's Proposition 65.