Hot Coal Bin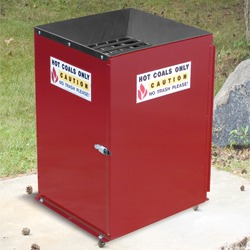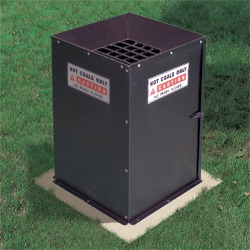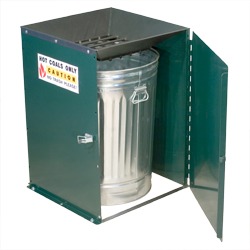 Price Per Unit Starts At:
Model HCB/B-1 Hot Coal Bin is a convenient, economical and safe way for campers, picnickers and tailgaters to dispose of their hot charcoals and ashes from their picnic grills. No more dumping of hot coals on the ground. The Hot Coal Bin is a perfect site feature for camping and picnic landscapes, and sporting event tailgating areas.
FEATURES:
The 23" square top funnels down to a 12" square grated opening through which you can dump coals and ash. The grate bar spacings will allow full size charcoal briquettes through, but will prevent most large trash from being deposited. Inside you can place any size steel container up to a 32-gallon capacity garbage can. Provide your own container, or order Model CNG-2310C from us.
But you don't need a can inside! This Hot Coal Bin is designed so it can be anchored to a concrete pad. Campers can deposit their ashes through the top grate. The ashes collect on the concrete pad inside the Bin. When it's time for clean out, open the door and scoop out the ashes with a flat shovel. The square corners of the Coal Bin and the flat concrete surface will allow for complete clean out.
The Hot Coal Bin also serves as a convenient depository for park maintenance personnel to dump ashes as they periodically clean out pedestal park grills.
SPECIFICATIONS:
The Model HCB/B-1 Hot Coal Bin measures 23 x 23" x 32-1/2" tall. It is fabricated from 14 ga. (1/16") steel for the side panels and top funnel, and 1/2" dia. steel bars for the grate. The Bin is finished with high temp non-toxic black enamel paint, and includes two "caution" decals. A full-length piano hinge attaches the door to one side panel. The draw-pull door latch can be padlocked to keep other trash and vandals out. (Order optional Model PL-1 brass padlock.) The unit ships knocked down (top is fully assembled) to reduce freight costs. Galvanized fasteners included. The Bin weighs 84 lbs. when assembled.
ACCESSORIES FOR YOUR HOT COAL BIN:
Order these optional accessories separately as you need them to complete your Hot Coal Bin.
Model CNG-2310C - galvanized steel collection can, 31 gallon capacity.
Model GGS/B-1 Grill and Grate Scraper - easily scrape ashes from the grill firebox into a collection pail. Then dump the pail into the Hot Coal Bin. The Scraper has two functions: scrape off the grate bars, then flip it over and scrape ashes out of the firebox.
Model CNG-W10120 - galvanized steel collection pail, 12 qt. capacity.
Model PL-1 - brass padlock to keep front door closed to trash and vandals.
Model BR-4HSA - set of (4) 3/8" x 1-7/8" hex sleeve anchors for concrete surface.
Model M9/B - set of (3) steel rod ground anchors for turf installations, temporary/seasonal installations.