Bolt On Rules Plate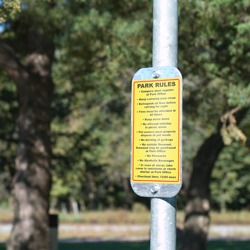 Price Per Unit Starts At:
Model RP Rules Plate can be used for posting park regulations, notices and fees.
This 6" x 12" steel plate is fastened to the pole at eye level and provides a flat surface for decals or adhesive signs. Fits any diameter pole. Does NOT include signage.
Installation requires drilling holes to retrofit to existing lantern poles in the field. Mounting holes are predrilled when you order the Rules Plate with new lantern poles.
FINISH: Hot dip galvanized finish to minimize maintenance requirements is standard. Or choose powder coat finish in your choice of color. See Materials Options.