End Accessible Recycled Plastic Picnic Table - RT Series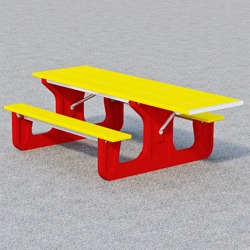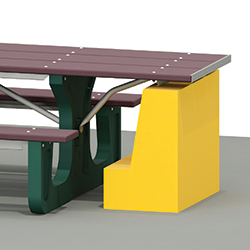 Price Per Unit Starts At:
Model RT Picnic Tables use the traditional looking back-to-back J-leg design that is common with steel frame picnic tables. Galvanized steel mounting angles and diagonal braces add strength to the table solving the durability problems of lesser plastic picnic tables.

These picnic tables have 8 ft. tops which extend 2' at one end beyond the 6 ft. seats. This design meets or exceeds the current ADA guidelines for wheelchair accessibility and provides wheelchair access at one end (30" wide, 27" under table top and 19" knee plus 5" toe clearances).
Specifications:

Model RT Picnic Tables feature our non-tip, non-trip, walk-through design. Tables won't tip even if all persons sit on one side. Easy walk through access. "Skid" design permits easier movement. Tables offer 30" nom. table height and 18" nom. seat height.

FRAME: 3" thick, single-piece end frames molded from 100% recycled plastic available in a variety of colors. Top/seat mounting angles are formed from pre-galvanized steel. The table structure is reinforced with diagonal braces of 1-5/16" OD pre-galvanized steel tube. All 3/8" dia. galvanized carriage bolt fasteners.

LENGTH: 8 ft. top with 6 ft. seats

TOP/SEAT MATERIALS: 2" X 10" (nom.) 100% Recycled Plastic planks in your choice of color. See Material Options.
OPTIONAL: Attach to surface for permanent installation with optional anchor brackets. Use Model ANG-2 Angle Anchor Kit.
You May Also Like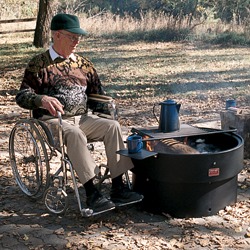 Accessible Campfire Rings
SKW: Accessible Campfire Rings
These Campfire Rings are designed to meet ADA guidelines for accessiblity. CLICK TO SEE MORE.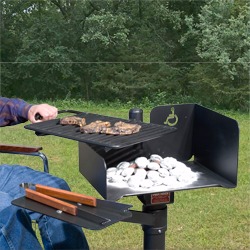 Accessible Charcoal Grill - ASW and ASWS Series
SKW: ASW::
These charcoal grills meet the ADA guidelines for accessibility and operability. CLICK TO SEE MORE.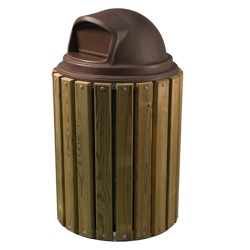 Round Trash and Recycling Receptacles - TRH Series
SKW: TRH
An attractive way to collect trash or recyclables. CLICK TO SEE MORE.