SQT3-4 Series Square Portable Wheelchair Accessible Picnic Table - Using Lumber or Recycled Plastic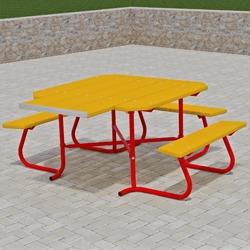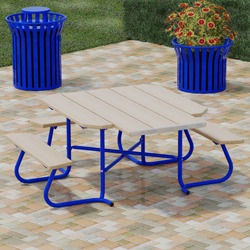 Price Per Unit Starts At:
Model SQT3-4 Picnic Tables offer portability plus a square seating pattern that fully utilizes the table top: better visual contact, more conducive to conversation, an ideal game or craft table, good for children and adults.

The frame design includes our non-tip, non-trip, walk-through features. Tables offer 30" nom. table height; 18" nom. seat height.

Model SQT3-4 Picnic Tables have a 48" X 59-1/4" top and one seat structure has been eliminated providing wheelchair access on one side. The design is ideal for wheelchair accessibility.

Specifications:



FRAME: Corner frames are fabricated from 1-1/2" OD x 1/8" wall structural steel pipe (1.500" OD, 12 ga. wall nom. pipe specifications). Top/Seat mounting angles are 1-3/4" x 1-3/4" x 1/8" thick steel. Cross braces are 1-5/16" OD steel pipe.

FINISH: Standard finish: hot dip galvanized after fabrication. Or choose a powder coat finish (in place of galvanized finish) in your choice of color.

SIZE: 48" X 59-1/4" table top.

TOP/SEAT MATERIALS:
• 2" X 10" (nom.) untreated or pressure treated #1 southern yellow pine
• 2" X 10" (nom.) 100% Recycled Plastic planks in your choice of color
See Material Options.

OPTIONAL: Umbrella hole/cup/collar to accommodate your choice of umbrellas with 1-1/2" diameter poles. For optional umbrella, see Accessories.


You May Also Like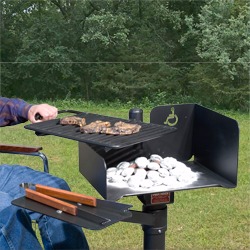 Accessible Charcoal Grill - ASW and ASWS Series
SKW: ASW::
These charcoal grills meet the ADA guidelines for accessibility and operability. CLICK TO SEE MORE.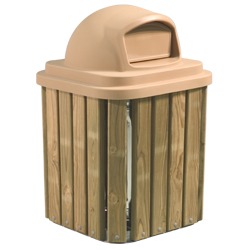 Square Trash and Recycling Receptacles - TRQ Series
SKW: TRQ
Square shape for a different look. CLICK TO SEE MORE.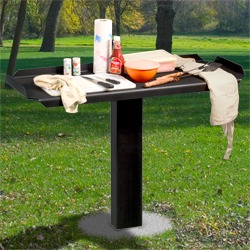 Utility Table - ULT Series
SKW: ULT
Simple design of these tables makes them convenient, easy to use and keep clean. CLICK TO SEE MORE.