T300/T400 Series Round, Pedestal Accessible Picnic Table With CONTOUR Bench Seats - Using Perforated Steel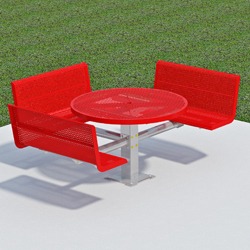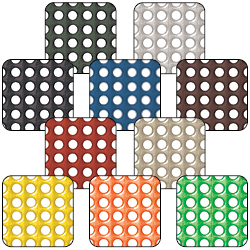 Price Per Unit Starts At:
Series T300 and Series T400 Round Picnic Tables are a perfect fit for malls, patios, pools, decks, restaurants, cafes, rec centers, common areas, schools, golf courses, hotels, streetscapes, … any casual place where people gather. The permanent and secure pedestal mount prevents theft and provides a clear area under the table for easier maintenance and clean-up.
Series T300 Round Pedestal Tables provide an embedded post installation.
Series T400 Round Pedestal Tables provide a surface mount base plate installation.
Model T333 and T433 Picnic Tables have 3 CONTOUR bench seats, 10" X 40" (nom.) which provide enough seating for up to six people. One seat and support arm have been removed from the standard T300 Series and T400 Series Tables to provide wheelchair accessibility.
Series T300 and Series T400 Picnic Tables include a reinforced umbrella hole in the top designed to accept umbrellas with 1-1/2" OD poles. The umbrella is optional. See Accessories.
Specifications:

FRAME: Supported by one central, massive 6" sq. steel post. Seat arms are 3-1/2" dia. steel tube and are designed to resist lateral torsion and deflection. Assembly points all fasteners to inside of central post so carriage bolt nuts are not exposed. Installation of top prevents access to inside of post. All fasteners for assembly are included. T300 series provides embedded installation. T400 Series provides a 3/8" x 16" sq. steel bolt down base plate (anchor bolts not included). Use Model ANC5-4 Anchor Kit.

FINISH: Standard finish: hot dip galvanized after fabrication. Or choose a powder coat finish (in place of galvanized finish) in your color choice.
SIZE: 48" dia. (nom.) round table top with 3 contour bench seats
TOP/SEAT MATERIALS: Our R-Type 14 ga. perforated steel thermo-plastic coated in your choice of color. See Material Options.

OPTIONAL: Game Board Table Top. The game board insert is 14 ga. steel powder coated black. After the vinyl game decal is applied, the insert is sealed with a clear coat finish. The standard game decal is red/black checkerboard.
You May Also Like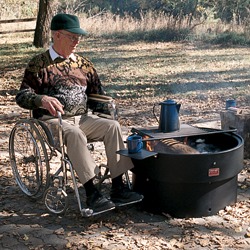 Accessible Campfire Rings
SKW: Accessible Campfire Rings
These Campfire Rings are designed to meet ADA guidelines for accessiblity. CLICK TO SEE MORE.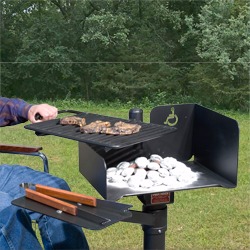 Accessible Charcoal Grill - ASW and ASWS Series
SKW: ASW::
These charcoal grills meet the ADA guidelines for accessibility and operability. CLICK TO SEE MORE.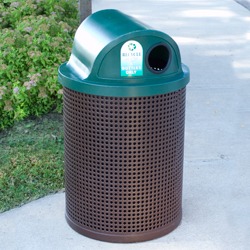 Round Receptacle - Perforated Steel
SKW: CN-R
Fabricated using perforated steel and available in 3 sizes.