Frame Kit - Kid's Square Picnic Table - SQTK Series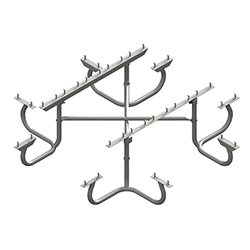 Series SQTK Picnic Table Frame Kits are portable and offer a square seating pattern that fully utilizes the table top: better visual contact, more conducive to conversation and an ideal game or craft table.
Children can be hard on furniture. You need picnic tables that are built to take it! These tables use the same design and construction as our standard sized picnic tables. They have been proportionally scaled to fit children up to 10 or 11 years old. Tables offer 22" table height and 12 " seat height.
Specifications:
Series SQTK Picnic Table Frame Kits are designed for a 48" square top and 4 bench seats. The frame design includes our non-tip, non-trip, walk-through features.
FRAME KIT: Corner frames are fabricated from 1-1/2" OD x 1/8" wall structural steel pipe (1.500" OD, 12 ga. wall nom. pipe specifications). Top/Seat mounting angles are 1-3/4" x 1-3/4" x 10 ga. thick steel. Cross braces are 1-5/16" OD steel pipe.
FINISH: Standard finish: hot dip galvanized after fabrication. Or choose a powder coat finish (in place of galvanized finish) in your choice of color.