XT Series Frame Kit - Side Accessible Extra Heavy Duty Picnic Table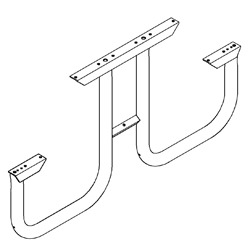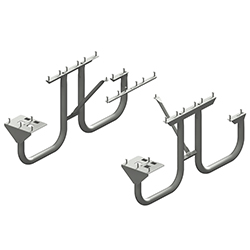 Price Per Unit Starts At:
Model XT Side Accessible Picnic Table Frame Kits are designed and constructed specifically for heavy use areas where unusually difficult service may be required. A section of seating is removed from the side(s) for ADA COMPLIANT wheelchair accessibility right in the middle of activities. Table configurations meet or exceed current ADA guidelines for wheelchair access to picnic tables.
Specifications:
Model XT Side Accessible Picnic Table Frame Kits feature our non-tip, non-trip, walk through design. The table won't tip even if all persons sit on one side. Easy walk through access. "Skid" design permits movement without damage to turf.
Model XT 6 and 8 ft. Side Access Picnic Table Frame Kits provide one side opening with 2 one-person seats located on either side of wheelchair. These tables can comfortably seat 6-7 people.
Model XT 10 and 12 ft. Side Access Picnic Table Frame Kits provide two locations for wheelchairs which are diagonally opposite each other. Current ADA guidelines require two wheelchair spaces on these larger tables. Each side includes a shorter one-person seat plus a longer seat to accommodate 3-4 people. These tables can comfortably seat 10-12 people.
Model XT Side Accessible Tables offer 30" nom. table height (to top of table); 18" nom. seat height. Diagonal braces are used to support and reinforce the table structure. Brace positioning allows wheelchair spaces to meet current ADA clearance guidelines of 30" wide, 27" under table (ground to bottom of table top), and 24" total knee and toe clearances (19" knee + 5" toe).
FRAME KIT: All welded 2-3/8" OD steel pipe end frames (2.375" OD, 11 ga. wall, 2" ID nom. pipe specifications). Top/seat mounting brackets are 2" x 2" x 10 ga. die formed steel angles. Frames are supported by diagonal braces of 1-5/16" OD steel pipe attached to steel center channel. All 3/8" dia. galvanized carriage bolt fasteners. Warranted for life.
FINISH: Standard finish: hot dip galvanized after fabrication. Or choose a powder coat finish (in place of galvanized finish) in your color choice.
You May Also Like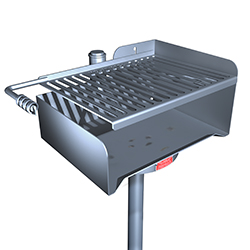 ASWS-20 Series Accessible Grill - Stainless Steel
SKW: ASWS-20
This stainless steel grill meets the ADA guidelines for acess and operation.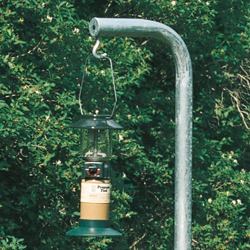 Model LH-1 - Lantern Holder With 90 Degree Arm
SKW: LH
Safely hang camping lanterns. Available with Wheelchair Accessible Option.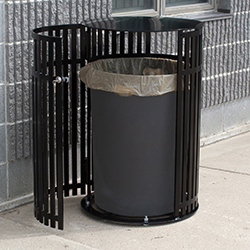 Round Receptacle - with Bonnet and Side Door, Steel Strap
SKW: CN-R/SP3/C*-36D
Lockable side door, steel bonnet cut steel plate body. A rugged outdoor receptacle!