Snow Load/Extreme Load Traditional A-Frame Picnic Table - WAT Series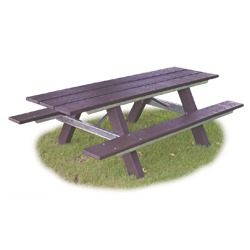 Price Per Unit Starts At:
Model WAT-8 Picnic Tables incorporate galvanized steel braces for a stronger A-frame design. This is your traditional A-frame table modified to withstand public and commercial use. Designed to meet the challenges of high elevation snow and other extreme loads, additional steel braces under the seats and top provide a Snow Load Rating of 500 lbs. per sq. ft.

These picnic tables have 8 ft. recycled plastic tops and seats. The design meets or exceeds current ADA guidelines for wheelchair accessibility and provides for wheelchair access at both ends (30" wide, 27" under table top and 19" knee plus 5" toe clearances).

Specifications:

LOAD RATING: Designed to withstand extremely heavy loads. They have been independently tested by an independent lab and a state university and are rated to withstand weight loads up to 500 lbs per sq. ft. This rating is achieved by including additional steel braces under the seats and top. Remember...the rating is 500 lbs. per sq. ft. NOT per table!

FRAMES: 4" x 6" (nom.) leg posts. Cross supports are formed using galvanized steel channel to build rigid end frames and a sturdy seat support. Frames are supported by diagonal braces of 1-5/16" OD galvanized steel pipe attached to a steel center channel under the table top. All 3/8" dia. galvanized carriage bolts (not lag screws) are provided for assembly.

LENGTH: 8 ft. table top and 8 ft. seats.

TOP/SEAT MATERIAL: 2" X 10" (nom.) 100% Recycled Plastic planks in your choice of color. See Material Options.
OPTIONAL: Attach to surface for permanent installation with optional anchor brackets. Use Model ANG-2 Angle Anchor Kit.
You May Also Like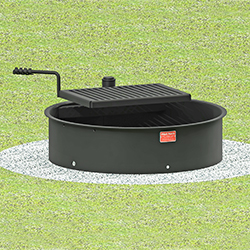 FSW/SL-30 SNOW LOAD Rated Swivel Grate Campfire Ring
SKW: FSW/SL-30
This Campfire Ring features a swivel grate that is snow load rated to 569 lbs. per sq. foot
Heat Shield for Picnic Table Top
SKW: HS-TB/G
Protect Picnic Table Tops from Hot Grills and Pots.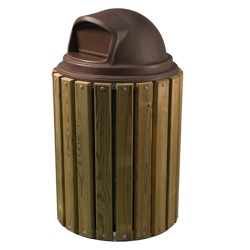 Round Trash and Recycling Receptacles - TRH Series
SKW: TRH
An attractive way to collect trash or recyclables. CLICK TO SEE MORE.