APT Series Multi-Pedestal Picnic Table - Using 3x4" Recycled Plastic Timbers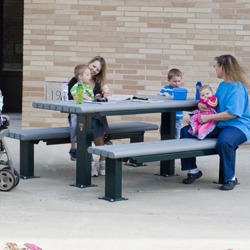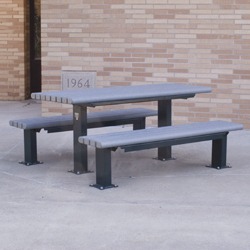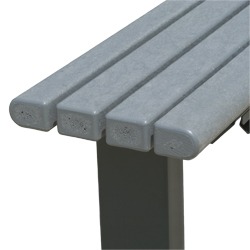 Price Per Unit Starts At:
Model APT Multi-Pedestal Rectangular Picnic Tables provide a secure, permanent location which prevents theft. These picnic tables can be 6 or 8 ft. long with two full-length bench seats, 30" table height and 18" seat height (nominal dimensions).

Specifications:

FRAME: Two heavy pedestal posts of 3" x 6" x 1/8" wall rectangular steel tubing to support the table top and each seat. Exposed ends of frame posts are sealed with welded on end caps. Model APT/P frame posts have 3/8" x 8" square steel bolt down/surface mount base plates welded on (anchor bolts not included).

FINISH: Standard finish: hot dip galvanized after fabrication for maximum protection from elements. Or choose a powder coat finish (in place of galvanized finish) in your choice of color.

LENGTH: 6 or 8 ft long.

TOP/SEAT MATERIAL: 3" x 4" (nom.) 100% Recycled Plastic Timbers in your choice of color. These thick timbers give the APT Table a solid, substantial look and feel. See Material Options.
OPTIONAL: Model ANC1-4 Anchor Kit. You will need (6) anchor kits per table.