T720 Custom Identity Picnic Table - Using Expanded Steel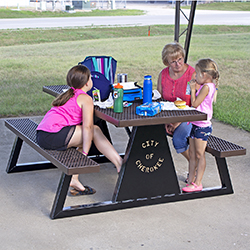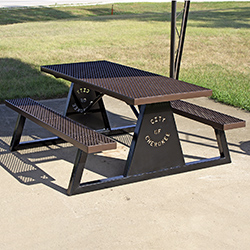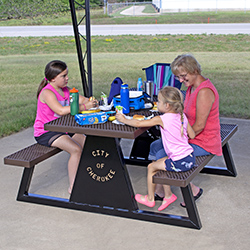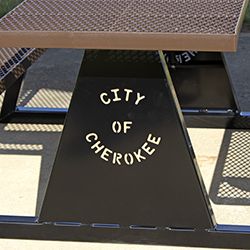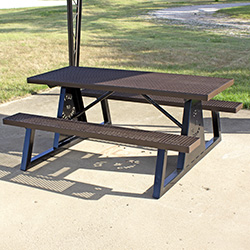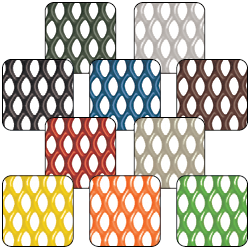 Price Per Unit Starts At:
Model T720 Tables include your custom identity on each vertical support panel. Each table includes your personalization laser cut into the steel vertical support on each frame. Use this space for your agency name, school or team name, or other message (design and space limitations apply – we will send you proof for approval prior to making your table).
Specifications:
The frame design includes our non-tip, non-trip, walk-through features. Tables offer 30" nom. table height; 18" nom. seat height.
FRAME: Each frame is fabricated using 2-1/2 x 2-1/2 in. x 1/8 in. wall sq. tube for the base and seat supports; 10 ga. steel plate for the vertical support panel and the top/seat mounting angles. All welded fabrication. Table assembly includes two 1-5/16" OD steel tube diagonal braces. Each frame base includes (2) 9/16 in. dia. anchor bolt holes (anchor bolts not included).
FINISH: Standard finish: hot dip galvanized after fabrication. Or choose a powder coat finish (in place of galvanized finish) in your color choice.
LENGTH: Tables can be 6 or 8 ft. long.
TOP/SEAT MATERIALS: Our D-Type 3/4-#9 expanded metal thermo-plastic coated in your choice of color. See Material Options.
OPTIONAL: To anchor table to a concrete surface, use Model ANC2-4 Anchor Kit (Concrete Screws).
You May Also Like
Heat Shield for Picnic Table Top
SKW: HS-TB/G
Protect Picnic Table Tops from Hot Grills and Pots.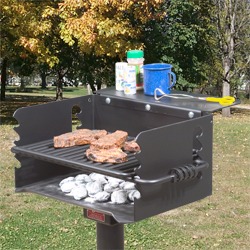 Q-20 Series Charcoal Grill
SKW: Q-20
This grill features a 300 sq. inch grate that tips up & allows for easy fire building and clean out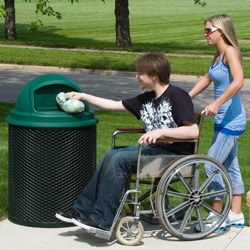 Round Receptacle - Expanded Steel
SKW: CN-R
Fabricated using expanded steel and available in 3 sizes.