UT Series Picnic Table - Using Formed Steel Channel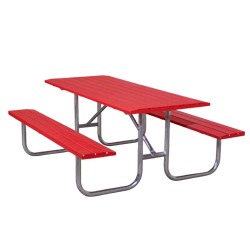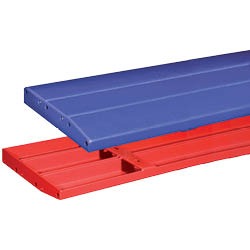 Price Per Unit Starts At:
Model UT Picnic Tables are designed for most public applications. Built rugged, but with less weight, easier to move.
Specifications:
Model UT Picnic Tables feature our non-tip, non-trip, walk through design. The table won't tip even if all persons sit on one side. Easy walk through access. "Skid" design permits movement without damage to turf. Model UT Picnic Tables offer 30" nom. table height; 18" nom. seat height.
FRAME: All welded 1-5/8" OD steel pipe end frames (1.660" OD, 11 ga. wall, 1-1/4" ID nom. pipe specifications). Top/seat mounting angles are 2" x 2" x 10 ga. die-formed steel. Frames supported by diagonal braces of 1-5/16" OD steel pipe attached to steel center channel. All 3/8" dia. galvanized carriage bolt fasteners. Warranted for life.
FINISH: Standard finish: hot dip galvanized after fabrication. Or choose a powder coat finish (in place of galvanized finish) in your color choice.
LENGTH: Tables can be 6 or 8 ft.
TOP/SEAT MATERIALS: 2" x 4" formed steel channel assembled (at the factory) into seat planks and thermo-plastic coated in your choice of color. See Material Options.
OPTIONAL: To anchor table to a concrete surface, use Model ANC6-4 Anchor Kit (Concrete Screws) and Model ANG-5 Anchor Kit (Anchor Straps).
You May Also Like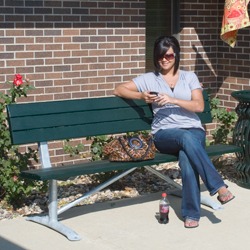 Channel Park Bench - Using Formed Steel Channel
SKW: CXB::
The Channel Bench - Using Formed Steel Channel coated in colorful thermoplastic.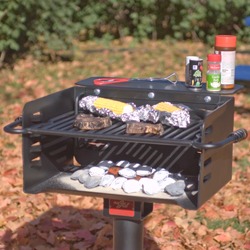 Multi Level Grates - H and J and K Series
SKW: H,J,K::
These charcoal grills have the Multi Level cooking grates. CLICK TO SEE MORE.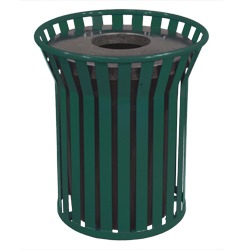 Round Receptacle - Vertical Steel Straps
SKW: CN-R/SS2
Designed to hold most available 30-36 gallon liners