XT Series Picnic Table - Using Perforated Steel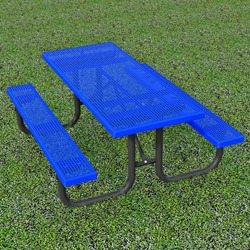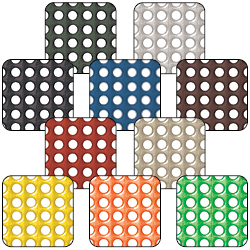 Price Per Unit Starts At:
Model XT Picnic Tables are designed and constructed specifically for heavy use areas where unusually difficult service may be required.
Specifications:
Model XT Picnic Tables feature our non-tip, non-trip, walk-through design. The table won't tip even if all persons sit on one side. Easy walk-through access. "Skid" design permits movement without damage to turf. Model XT Picnic Tables offer 30" nom. table height; 18" nom. seat height.
FRAME: All welded 2-3/8" OD steel pipe end frames (2.375" OD, 11 ga. wall, 2" ID nom. pipe specifications). Top/seat mounting angles are 2" x 2" x 10 ga. die-formed steel. Frames supported by diagonal braces of 1-5/16" OD steel pipe attached to steel center channel. All 3/8" dia. galvanized carriage bolt fasteners. Warranted for life.
FINISH: Standard finish: hot dip galvanized after fabrication. Or choose a powder coat finish (in place of galvanized finish) in your color choice.
LENGTH: Tables can be 6, 8 or 10 ft.
TOP/SEAT MATERIALS: Our R-Type 14 ga. perforated steel thermo-plastic coated in your choice of color. See Material Options.
OPTIONAL: To anchor table to a concrete surface, use Model ANC6-4 Anchor Kit (Concrete Screws) and Model ANG-3 Anchor Kit (Anchor Straps).
You May Also Like
Heat Shield for Picnic Table Top
SKW: HS-TB/G
Protect Picnic Table Tops from Hot Grills and Pots.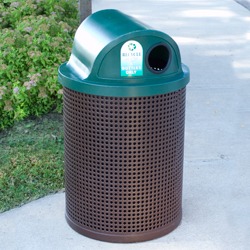 Round Receptacle - Perforated Steel
SKW: CN-R
Fabricated using perforated steel and available in 3 sizes.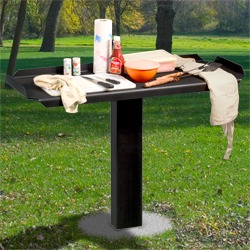 Utility Table - ULT Series
SKW: ULT
Simple design of these tables makes them convenient, easy to use and keep clean. CLICK TO SEE MORE.