Model TH-3 - Toilet Tissue Dispensers - 3 Rolls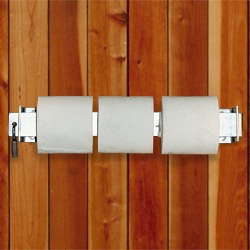 Model TH-3 Toilet Tissue Dispensers are designed to hold 3 rolls of toilet tissue or 1 roll of paper towels. They are made with sturdy steel wall brackets and cross bars to stand up to abuse. The 2" wide cross bars are designed to prevent the rolls from turning so only the amount of paper needed is taken. This reduces waste, littering and extreme use. The optional Model PL-1 brass padlock will prevent theft.
Model TH-3 Toilet Tissue Dispensers use 3/16" thick steel wall brackets that span 16" wall stud centers and 1/4" x 2" wide cross bar. Wall mounting fasteners are not included.
Plated zinc finish for corrosion resistance and minimal maintenance.
OPTIONAL: Model PL-1 padlock