Traffic Barrier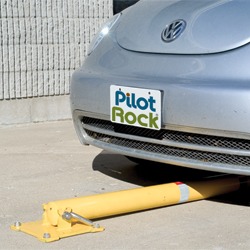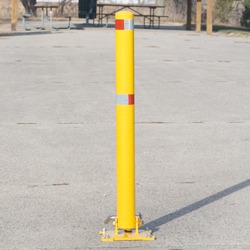 Price Per Unit Starts At:
Our Traffic Barrier adds flexibility to your site. For those times when you want to restrict traffic in an area, lock the Traffic Barrier in the upright position to block traffic to restricted areas. When you want to allow traffic in those areas, fold the Traffic Barrier down and lock into postion. In the down position, it is easy for cars, trucks and utility vehicles to straddle. It can be locked securely into either position.
Specifications:
FABRICATION: Heavy gauge steel fabrication with 3-1/2" OD x 1/8" wall steel pipe post; 10" sq. x 3/8" steel base plate with four 25/32" dia. holes. INCLUDES: Four 1/2" x 3" screw type concrete anchors; stainless steel hinge bolt and stainless steel 3/4" dia. locking pin with brass padlock; reflective decals.
DIMENSIONS: Erect height 42-3/8"; folded height 4-3/16".
FINISH: Standard finish is high visibility yellow powder coat paint. Or choose powder coat paint finish in your choice of color. See Material Options.
OPTIONAL: Model ANC1-4 Anchor Kit (Remember: 1 kit is included with the Traffic Barrier)