Lid - Round Steel Dome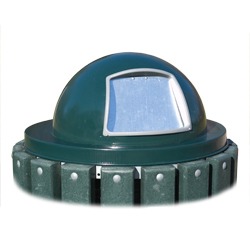 Price Per Unit Starts At:
Round Steel Dome Lid has a self-closing, spring loaded hatch. Available with hot dip galvanized finish or in your choice of powder coat paint color.
Note: For all lids, please confirm the inside diameter (I.D.) will fit the outside diameter of your receptacle. Some lids may fit more closely than others.

Model Number

I.D.

O.D.

Use with these Receptacle Holders

CN-3434

21"

21-3/4"

Federal Duty 32 gallon galvanized can, CNG-WHD32C

CN-5555

23-3/4"

24-1/2"

TRH-32, TRH-55 (fits on barrel inside), CN-AMR-32,
CN-R/R-32, CN-R/D-32, CN-R/SS2-36,

CN-R/SS2-36D,

CN-EXP52, CN-R/SP2-32, CN-TR-52, CN-R/SS3-36, RA's, 55 gallon barrel

CN-2755

27-1/8"

27-1/4"

TRH-55, CN-R/R-52, CN-R/D-52, CN-R/R-55,
CN-R/D-55