Square Molded Black Plastic Lid - Flat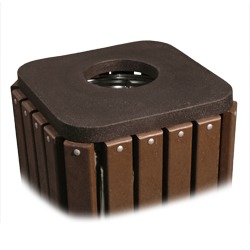 Model CN/B-1826 is a square molded plastic lid with a 10" diameter center hole. It is available in black only.
Note: For all lids, please confirm the inside diameter (I.D.) will fit the outside diameter of your receptacle. Some lids may fit more closely than others.

Model
Number

I.D.

O.D.

Hole
Dia.

Use With These Receptacle Holders

CN/B-1826

23-3/8"

24"

10"

CN-AMQ-32, TRQ-32, CN-Q-36, CN-Q/SS4-36D