DogiPot Pet Waste Collection Station - Bag Dispenser Only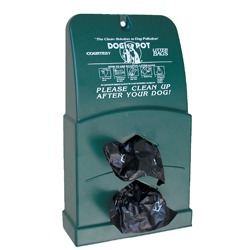 For areas where you have your own trash receptacles, you can install just the litter bag dispenser. Pet owners can take a bag, use it as they exercise their pet and dispose of it in the nearest trash receptacle.
Model PWS-DOGI1007-2 Dogipot Pet Waste Bag Dispenser is a light weight, polyethylene pet waste bag dispenser built to commercial quality standards for use everywhere dogs and their owners go.
DogiPot Junior Bag Dispenser (400 litter bag storage capacity). Poly-molded plastic. Forest green color. Includes 2 rolls (200 bags each) of opaque litter pick-up bags.