Park Policeman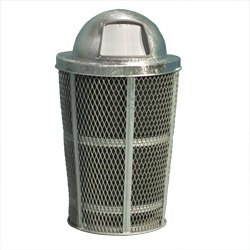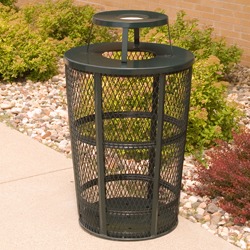 Model CN-EXP52 Trash Receptacle offers a large 48-gallon capacity.
Specifications:
Model CN-EXP52 offers a tapered body which is 23-1/2" diameter at the top and 19-1/2" diameter at the bottom. It is 33" tall and weighs 31 pounds.
This heavy-duty waste receptacle is fabricated using expanded metal mesh for the body with rolled top and bottom edging for added strength, safety and easy handling. Six vertical ribs and two horizontal rings reinforce the whole structure.
FINISH: Standard finish: hot dip galvanized after fabrication. Or choose thermo-plastic coat (in place of galvanized finish) in your color choice. See Material Options.
OPTIONAL: A variety of steel and plastic dome and flat lids are available to this receptacle to collect trash and recyclables. See Receptacle Lids.
OPTIONAL: Seasonal ground anchors. See Stationary Mounts.