RA Series Recycling Arrays - 3 Modules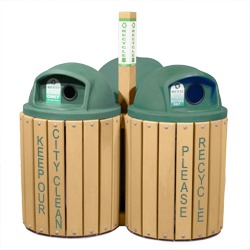 Price Per Unit Starts At:
RA Series Recycling Arrays use the TRH-32 Trash Receptacle Holder as the basic module.
Specifications:
Model RA3/G module uses three TRH-32 receptacles (included).

TRH-32 Receptacle
FRAMES: TRH Series frames include a top and bottom ring; both rolled using 10 ga. steel with a formed flange for strength. The base ring is reinforced with die-formed cross braces. These braces also serve to keep the container inside the TRH up off the ground. Galvanized fasteners included. Ground anchors are included. When driven through holes in the base frame rings, the ground anchors can additionally anchor and secure the array structure.
MATERIAL: 1" x 4" (nom.) 100% Recycled Plastic slats in your choice of color (which will match the color of the center post). See Material Options.
CENTER POST: The 4" x 4" (nom.) sq. center post made of recycled plastic is the array focal point and is embedded into a concrete footing to secure the array in place. Modules bolt to the center post and to each other. Model DE-10 Wrap -around 12" x 17" post decal with "RECYCLE" and Recycling Symbol in Recycling Green on adhesive backed, white vinyl plastic (included).
MATERIAL: 100% Recycled Plastic in your choice of color (which will match the color of the TRH-32 Receptacle Modules.)
OPTIONAL: Model TG-24 Recycling Lids can be used to collect a variety of recyclables. See Model T lids.
OPTIONAL: Our recycling decals on the TG-24 lids allow you to identify what each module is used to collect. See Decals.
OPTIONAL: Other trash can covers and dome lids can also be used to add to the versatility of the array. See Receptacle Lids.
OPTIONAL: Trash cans and liners are available. See Trash Cans, Liners.
OPTIONAL: Band-It trash bag loop to hold your trash bag in place on the liner. See Band-It Loops.