Square Trash and Recycling Receptacles - Amherst Collection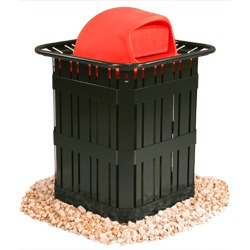 Price Per Unit Starts At:
Amherst Series Square Trash and Recycling Receptacles feature all steel and all welded construction for maximum durability. They are built to withstand abuse by humans and nature. The Amherst design keeps the optional lid inside and below the top of the flare to keep wind and weather from dislodging it.
Amherst Receptacles coordinate with our Amherst Benches.
Specifications:
Model CN-AMQ Square Receptacle is fabricated with 10 ga. steel vertical and horizontal straps. Three horizontal bands and the integral steel tube around the top provide more reinforcement than found on most similar receptacles.
The substantial weight of these receptacles will keep them in place without anchors. However, the steel bottom braces include holes for surface anchors (Anchor bolts not included). Amherst trash receptacles include four levelers.
Receptacle Dimensions:
At top ring: 31" x 31"

Inside: 24-1/4" x 24-1/4"

Height: 34"

Weight: 145 lbs.

Capacity: Holds up to a 36 gallon capacity liner
Shipped fully assembled and includes #CK-5 lid cable kit.
FINISH: A powder coated finish is available in your choice of colors. See Material Options.
OPTIONAL: Stationary, elevated mounting posts (Models M7/G and M8/G) are available to secure the receptacles in place. See Stationary Mounts.
OPTIONAL: Steel or rigid plastic liners. See Trash Cans, Liners.
OPTIONAL: A variety of steel flat lids and plastic dome lids are available. See Receptacle Lids.
OPTIONAL: Model ANC3-4 Anchor Kit is available for surface mounting.
OPTIONAL: The horizontal steel bands provide an area for your custom vinyl decal signage. Contact Customer Service for details.