TRQ Series - FRAME KIT ONLY for Trash and Recycling Square Receptacles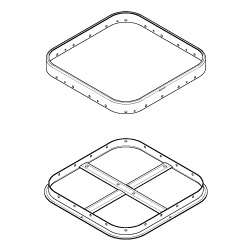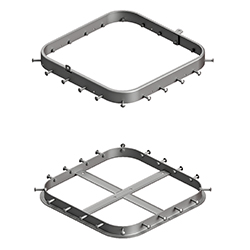 Price Per Unit Starts At:
Series TRQ Trash Receptacle Frame Kits provide the framework for an attractive way to collect trash or recyclables while disguising and protecting the liner inside from abuse and vandalism. The square shape offers a different look to the same function.
Model TRQ-32 holds a 30 or 32 gallon capacity can or liner.
Specifications:
FRAMES: TRQ Series frames include a top and bottom ring; both rolled using 10 ga. steel with a formed flange for strength. The base ring is reinforced with die-formed cross braces. These braces also serve to keep the container inside the TRH up off the ground. Galvanized fasteners included. The base frames include (3 or 4) 9/32" dia. holes in flange to allow anchoring to a concrete surface with appropriate anchors. (Anchor bolts are not included-use 1/4" x 2-1/4" concrete screws).
FRAME FINISH: Standard finish: Hot dip galvanized after fabrication for maximum protection. Or choose power coated (in place of galvanized finish) in your choice of color. See Material Options.
OPTIONAL: A variety of steel and plastic dome and flat lids are available for this receptacle to collect trash and recyclables. See Receptacle Lids.
OPTIONAL: Stationary mounts are available. See Stationary Mounts.