APTX Series Full Size Pedestal Utility Table - Using Lumber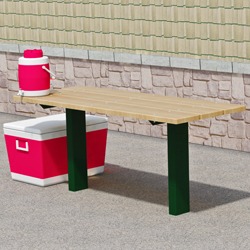 Price Per Unit Starts At:
Model APTX Full Sized Pedestal Rectangular Utility Tables provide a secure, permanent location which prevents theft. These utility tables can be 6 or 8 ft. long and offer 30" table height (nominal dimensions). These larger utility tables provide work or prep area for several people at the same time.
Specifications:
FRAME: Two heavy pedestal posts of 3" x 6" x 1/8" wall rectangular steel tubing to support the table top. Exposed ends of frame posts are sealed with welded on end caps. Model APTX is designed for the embedded post installation. Model APTX/P frame posts have 3/8" x 8" square steel bolt down base plates welded on (anchor bolts not included).
FINISH: Standard finish: hot dip galvanized after fabrication for maximum protection from elements. Or choose a powder coat finish (in place of galvanized finish) in your choice of color.
LENGTH: 6 or 8 ft long.
TABLE MATERIAL: 2" X 10" (nom.) untreated or pressure treated #1 southern yellow pine. See Material Options.
OPTIONAL: Model ANC1-4 Anchor Kit (Requires 1 kit per leg)
You May Also Like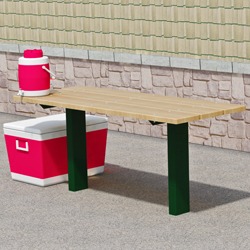 APTX Series Full Size Pedestal Utility Table - Using Lumber
SKW: APTX::
Utility table available in 6 or 8 ft. length using treated or untreated pine.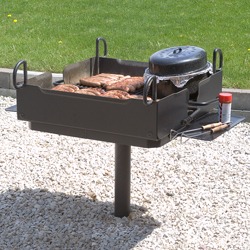 D2-48 Series Charcoal Grill
SKW: D2-48
This grill has two Infinitely Adjustable cooking grates for a combined cooking area of 1040 sq inch.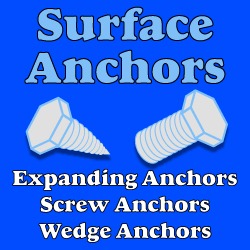 Model ANC1-4 Anchor Kit
SKW: ANC1-4
Four 1/2" x 3" Concrete Screw Anchors