Model TQ700 - Square Frame Square Utility Table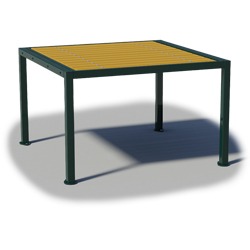 Price Per Unit Starts At:
Model TQ700 Utility Tables are square tables designed with clean-cut square end frames and inlaid table planks. No benches are included with this utility table.
These tables offer ADA compliant wheelchair accessibility on all sides. The design meets or exceed current ADA guidelines for wheelchair accessibility.
Specifications:
FRAME: Rugged all steel, welded component construction. End frames are 2 in. x 2 in. x 11 ga. square steel tube. Table framework is 1 in. x 2 in. x 14 ga. rectangular steel tube, with formed steel channel reinforcements. All open ends are welded closed with steel end caps. Assembly of end frames to table components is required. Surface mount installation only (Anchor bolts not included - use Model ANC3-4 Anchor Kit).
FINISH: All steel frame components have a powder coat finish in your choice of color.
LENGTH: 4 ft. square
MATERIALS:
• 2" x 4" (nom.) 100% recycled plastic in your color choice.
All inlaid planks are installed at the factory. See Material Options.
You May Also Like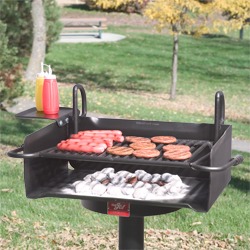 B-24 Series Charcoal Grill
SKW: B-24
This grill has a 384 sq. inch Infinitely Adjustable cooking grate.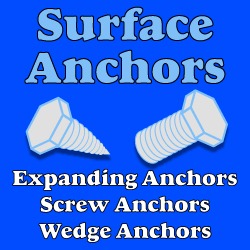 Model ANC3-4 Anchor Kit
SKW: ANC3-4
Four 3/8" x 3" Concrete Screw Anchors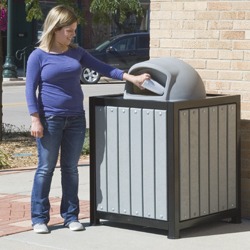 Square Steel Frame & Inlay Receptacle
SKW: CN-Q
A complement to our B130 Benches and T700 Tables.