Contemporary Steel Bench - Contour Seat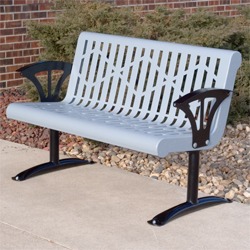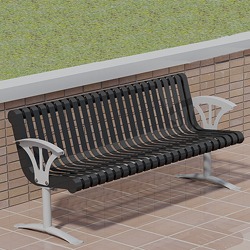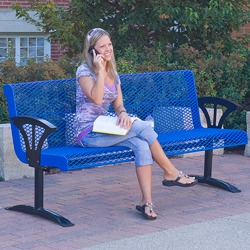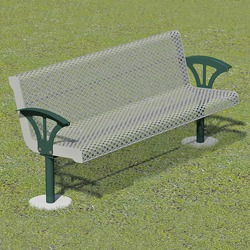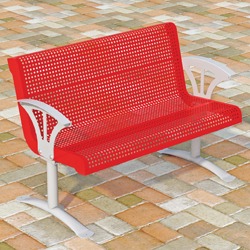 Price Per Unit Starts At:
Model B122 or B123 all steel bench offers a contemporary design with armrests and a comfortable contour bench seat.
BUDDY BENCH: The B122 and B123 Series Contemporary Bench with the cut steel plate contour seat can become a durable Buddy Bench with your friendly Buddy message cut directly into the steel plate.
Specifications:
FRAME: All heavy gauge steel fabricated components: 2-3/8" OD steel pipe frame post and surface foot, 7 ga. steel armrest, and choice of 4 steel seats.
INSTALLATION: Model B122 is surface mount (Anchor bolts not included - use Model ANC3-4 Anchor Kit.) Model B123 is embedded post design.
FRAME FINISH: Frame posts and armrests are powder coated in your color choice.
LENGTHS: Available in 4, 6 or 8 ft. sizes.
SEAT & BACK MATERIALS:
Expanded Steel is 3/4-#9 expanded steel (diamond shaped holes) with a thermoplastic coating.
Perforated Steel is 14 ga. perforated steel (round holes) with a thermoplastic coating.
Cut Steel Plate is 10 ga. laser cut steel plate with a thermoplastic coating.
Steel Strap is heavy gauge steel straps welded into a single piece seat with a powder coat finish.
All coatings are available in a variety of color choices. See Material Options.
OPTIONAL: Cover Caps, two-part aluminum caps to cover bottom of frame post for Model B121 and B123 benches with embedded post. You will need (2) #CC-1 cover caps per bench. The caps will be powder coated to match the frame finish. Click here to add Cover Caps to your Quote Cart.



You May Also Like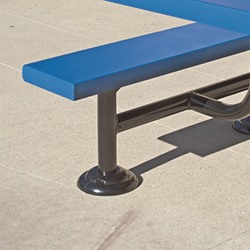 Cover Cap for Bench, Table, Bike Rack Posts and More.
SKW: CC
Cover Caps add a finishing touch to base posts or frame legs.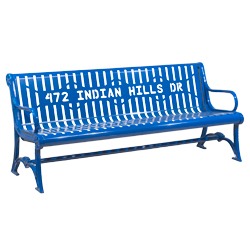 Custom Signage - Cut or Punched into Steel Products.
SKW: ACC::
Custom Lettering for Steel Benches, Tables, Trash Receptacles.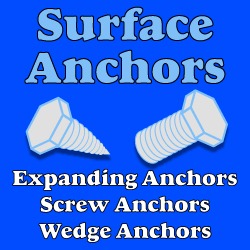 Model ANC3-4 Anchor Kit
SKW: ANC3-4
Four 3/8" x 3" Concrete Screw Anchors