Riverview Bench - All Steel Contour Seats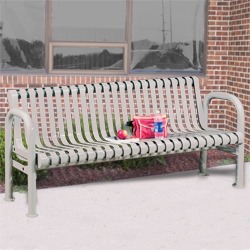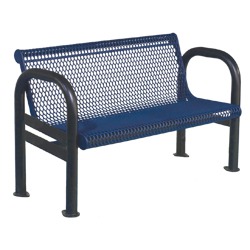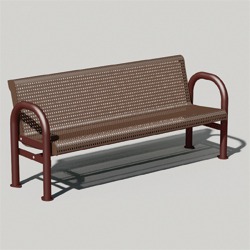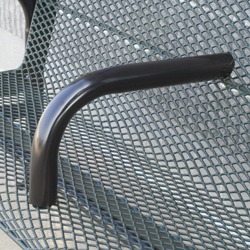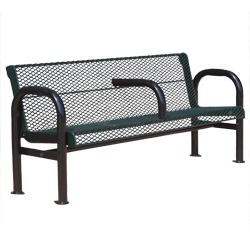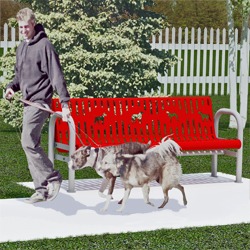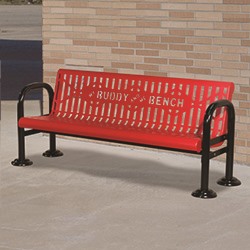 The B70 Series streetscape and park bench design includes a large steel tube frame structure with wider curves for a simple, clean and comfortable appearance. The integral armrests make both the contour and flat benches an attractive site feature.
BUDDY BENCH: The B78 and B79 Series Riverview Benches with the cut steel plate contour seat can become your Buddy Bench with your custom message cut directly into the durable steel backrest with a colorful thermoplastic coat finish.
Specifications:
FRAME: All B70 Series frames are a single piece welded unit using 2-3/8" OD steel pipe for leg posts and armrest. Seat attachment brackets are 7 ga. steel angles.
INSTALLATION: Models B76 and B78 are surface mounted and include bolt holes in the frame base plate (anchor bolts not included). Optional: Model ANC3-4 Anchor Kit. Models B77 and B79 are designed for embedded post installations.
FINISH: Frames are powder coated in your color choice.
LENGTH: Contour style or flat designs are available in 4, 6 and 8 ft. lengths.
SEAT & BACK MATERIALS: The popular "steel strap" seats are available with a powder coat finish in your color choice. We also offer seats fabricated from expanded steel (diamond-shaped holes) or perforated steel (round holes) finished with a colorful and durable thermoplastic coating. The "cut steel plate" seat is cut and formed from a single steel sheet, with the same colorful thermoplastic coating. See Material Options.
OPTIONAL: Model AR-13 steel center armrest, 2-3/8" OD, bolt on, is available for Expanded Steel and Perforated Steel contour seat designs The armrest color will match the frame color. See Armrests for Park Benches.
OPTIONAL: The contour seat using cut steel plate or perforated steel can also include your custom message incorporated directly into the steel. See Accessories.
OPTIONAL: Cover Caps, two-part aluminum caps to cover bottom of frame post. You will need (4) #CC-1 cover caps per bench. The caps will be powder coated to match the frame finish. Click here to add Cover Caps to your Quote Cart.