Trailside Bench - Single pedestal - OWB Series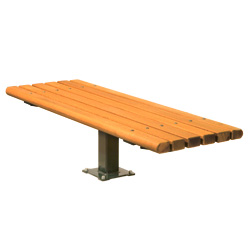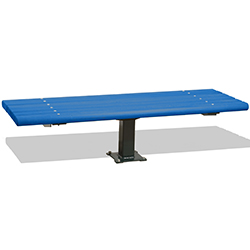 Price Per Unit Starts At:
Model OWB Trailside benches are equally suited to woodland trailside or urban landscape settings.
Coordinates with TRH Trash and Recycling Receptacles and Model P-10 Planters.
Specifications:
FRAME: Model OWB Trailside Bench uses a single support structure fabricated using a 4" square steel tube center post with a 2-1/2" sq. cross seat support.
INSTALLATION: Model OWB is standard with an embedded post installation. But Model OWB/P offers you the option for a 10" square surface mount bolt down base plate installation (anchor bolts are not included).
FINISH: Hot dip galvanized finish and galvanized fasteners maximize protection from the elements. Or select the optional powder coated frame finish in your color choice.
LENGTH: Benches can be 4 or 6 feet long, seat is 24" wide (nom.).

SEAT MATERIALS: Seat timber materials include: 3" x 4" (nom.) 100% recycled plastic, or construction heart redwood. See Material Options.

Indonesian Balau Wood is no longer available. Our supply has been depleted and it is cost prohibitive to replace.
OPTIONAL: Armrests can help make bench more accessible. See Armrests for Park Benches.
OPTIONAL: Model ANC1-4 Concrete Screw Anchor Kit for Model OWB/P.

California's Proposition 65.
You May Also Like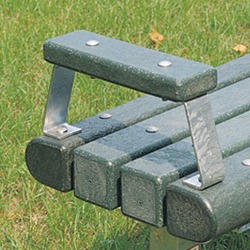 Armrests - Model AR-6 - for WB and OWB Flat Benches.
SKW: AR::
Armrests for WB and OWB Benches with Lumber or Recycled Plastic.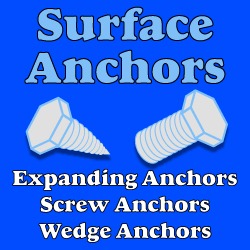 Model ANC1-4 Anchor Kit
SKW: ANC1-4
Four 1/2" x 3" Concrete Screw Anchors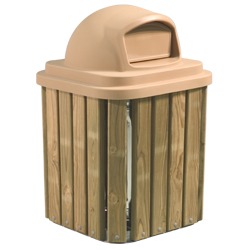 Square Trash and Recycling Receptacles - TRQ Series
SKW: TRQ
Square shape for a different look. CLICK TO SEE MORE.